'E Sha Ma Rora Fa Igbo' – Mr Macaroni Attacks Sanwo-Olu's Supporters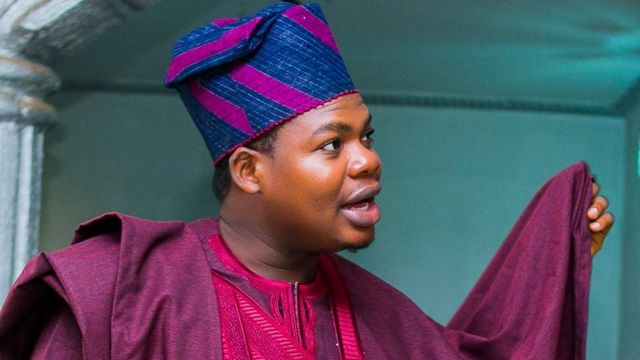 Popular content creator, activist and actor, Debo Adedayo, professionally known as Mr Macaroni, has slammed aides and supporters of Governor Babajide Sanwo-Olu of Lagos State.
Naija News reports that Mr Macaroni has on different occasions tackled the Sanwo-Olu-led administration over its policies. The thespian has also led various protests in the state.
But following his failure to clinch the 2022 AMVCA Awards for Best Online Creator, which he lost to his colleague, Chukwuemeka Emmanuel Ejekwu also known as Mr Funny or Oga Sabinus, he has been trolled on popular microblogging platform, Twitter.
Reacting in a series of posts on his Twitter handle on Monday, Mr Macaroni advised the Lagos State governor's supporters to channel their energy on something more productive.
He advised them to use their energy to demand for a better and safer environment for the people.
According to Mr Macaroni, Sanwo-Olu who swore to serve the people has failed to tackle insecurity and hardship.
He wrote: "E-Rats of the Lagos State Government are always looking for an opportunity to troll Mr Macaroni yet it is your principal that wants to walk with Mr Macaroni. E sha ma rora fa Igbo
"Government Trolls should use the same energy they use in trolling Mr Macaroni to demand for a better and safer environment for the people. For every-time you come for me, I will send you back to your Ogas! E ni sun!!
"High level of insecurity and hardship. Under @jidesanwoolu who swore to serve and protect the people. But na Mr Macaroni be their headache!! I have suffered so much under this administration but if you people think you will shut me up by trolling me, YOU LIE!!! Aluta Continua!!!
"No be today Government people don dey attack me and try to bring me down!! Every day, I know the kind of attacks I face from these Rats who fail to understand that we are fighting for a better society for all! But moving on, na una Principals go dey chop cane! E ni sun se!!!!
"Do you know that these Politicians that you attack Mr Macaroni for are constantly trying to have Mr Macaroni on their side? That's because they know his worth."