2023 Presidency: NEF Should Not Destroy Nigeria, Zoning Has Been Existing Since 1994 – Ohanaeze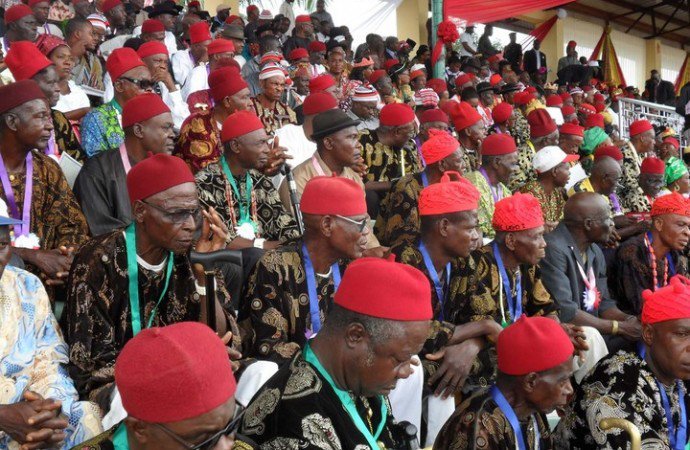 Igbo socio-cultural organization, Ohanaeze Ndigbo Worldwide has cautioned that the Northern Elders Forum (NEF) is treading a dangerous path by opposing the 2023 presidency.
Ohanaeze in a statement on Sunday by its national publicity secretary, Alex Ogbonia said NEF is opposing zoning because it is not the turn of the north to produce Nigeria's next President in 2023.
He warned that the actions so far taken by NEF are capable of destroying the vital values that have given balance to Nigeria as a country for many years.
Ogbonia stated further that zoning was agreed upon by some national leaders since about 1994 in the interest of justice, equity and peace, urged NEF to reconsider its stand and support the zoning of the 2023 presidency to the south and particularly to the southeast.
The statement however commended leaders and statesmen who have openly spoken in favour of zoning the 2023 presidency to the south.
Naija News understands the statement by Ohanaeze is a direct response to the position of the NEF convener, Ango Abdullahi who stated on Thursday that zoning should be ignored in the race to produce Nigeria's next President in 2023.
Ogbonia said: "It is therefore very strange that the elders, instead of seeking solution to the problems they have so far identified, are busy strategising on how to destroy the vital values that have helped to lubricate a precarious balance in the country."
"At about 1994, some Nigerian patriots conceived an article of faith and principle of rotation of power that guarantees equity and inclusiveness for all the diverse components of the country. Thus, Nigeria was structured into six geopolitical zones; namely, south-south, south-east, south-west, north-west, north-central and the north-east.
"It was also agreed that political offices would be zoned or distributed among the zones in such a way that every zone will have a sense of belonging. Furthermore, that the presidency will rotate among the zones to promote peace, unity and progress in Nigeria.
"By the rotation and zoning principle that has been in operation in Nigeria, it is only fair that the presidency be zoned to the south, specifically the south-east of Nigeria. It remains the moral duty of elders to guide the society on the path of truth and honour.
"The NEF knows fully well that in the interest of peace, unity and corporate existence of Nigeria, we the elders must, as a matter of necessity, embrace equity and justice. It is therefore only fair that the south-east of Nigeria should be supported to accede presidential power because what is good for the goose is, mutatis mutandis, good for the gander.
"All the ongoing shenanigans about zoning in Nigeria is because it is the turn of the south-east to produce a president in Nigeria. This NEF knows. We want to use this medium to salute the likes of Chief Olusegun Obasanjo, Pa Ayo Adebanjo, Chief E K Clarke, Dr. Pogu Bitrus and other leaders for their courage to stand by the right side of history."