Osinbajo Shuts Down Bigotry Accusation, Releases Video Of Muslim Appointees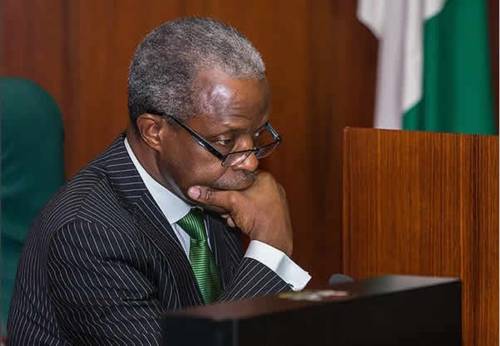 The Office of Vice President Yemi Osinbajo has dismissed reports of bigotry against Muslims by releasing a video showing all Muslim appointees working for him.
Naija News recalls that Farooq Kperogi, a professor of journalism in the US, had accused Osinbajo of hate for Muslims.
This was following Osinbajo's declaration of his presidential ambition on Monday morning.
He accused the VP of religious bigotry, stressing that Osinbajo was on a 'RCCGfication' mission.
In a move to counter the allegations, Osinbajo's office released a video on Wednesday showing that he has appointed 16 Muslims.
The Muslims who are most from the northern part of the country, comprised of five females and 11 males.
Below are the names of Muslim appointees listed in the video:
Abdulrahman Ipaye (Lagos) — deputy chief of staff to the president, office of the vice-president
Mariam Uwais (Kano) — special adviser to the president on social investment, office of the vice-president
Babafemi Ojudu (Ekiti) — special adviser on political matters, office of the vice-president
Balkisu Saidu (Sokoto) — senior special assistant on legal research and compliance matters, office of the vice-president
Abdullahi Gwari (Yobe) — head of protocol and senior special assistant on foreign affairs
Olabisi Ogungbemi (Kwara) –special assistant on political matters to the president, office of the vice-president
Ahmad Zakari (Jigawa) — special adviser to the president on infrastructure, office of the vice-president
Afeez Kau (Kano) — personal assistant, office of the vice-president
Abdulrahman Baffa (Yola) — special assistant to the president on political affairs, office of the vice-president
Muhammed Braima (Kwara) — special assistant on internally displaced persons (2015 – 2019); he was later appointed as special assistant on job creation
Mariam Masha (Lagos)– senior special assistant in humanitarian intervention
Yusuf Ali (Kwara) — special assistant to the president on power regulation, office of the vice-president
Gambo Manzo (Gombe) — special adviser on political affairs
Muritala Aliyu (Kogi) — special adviser on logistics
Ibrahim Salama (Katsina) — media assistant, office of the vice-president
Lanre Sasere (Lagos) — senior special assistant to the president on planning and coordination, office of the vice-president
Watch video below: