EPL: Haaland To Beat Ronaldo, De Bruyne With Manchester City Offer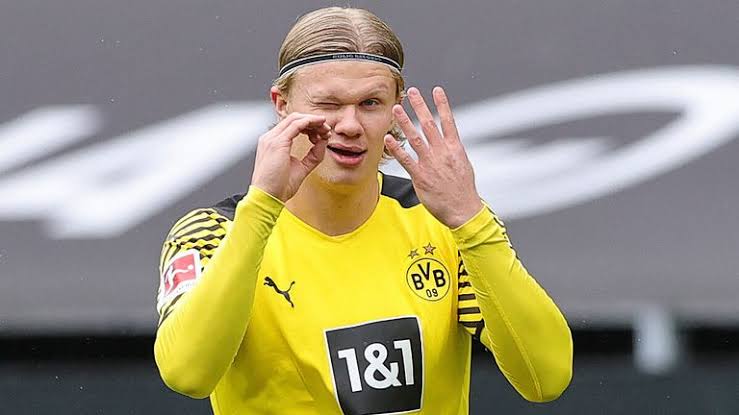 Norwegian professional footballer, Erling Haaland could become the highest-paid player in the English Premier League should his club agree to Manchester City deal.
Naija News reports that the 21-year-old currently plays as a striker for German Bundesliga club Borussia Dortmund.
City's manager, Pep Guardiola is, however, interested in bringing the young lad to the Etihad Stadium.
Reports revealed that personal terms have been discussed and City has offered to be paying Haaland a salary over £500,000 a week.
If achieved, the deal will see Haaland above the likes of Cristiano Ronaldo and City's Kevin De Bruyne, who both pocket around £385,000 a week.
According to SportsMail, Man City are frontrunners in the race for the 21-year-old striker.
Haaland has a £63million release clause in his contract. This relatively low transfer fee means both his agent Mino Raioisand his father Alf-Inge are also set to earn massive payments.
The total outlay of the deal is expected to be near £100m.
Barcelona, Paris Saint-Germain and Real Madrid are also interested in signing the Norwegian player but there is growing confidence that City is in the box seat for the striker who has 80 goals in 80 appearances for Dortmund.
Meanwhile, Ballon d'Or will no longer be annual but summerly, organizers have announced.
According to the French News Magazine, France Football, players' performances would henceforth be observed during a season (August-July) and not a calendar year (January-December).
The changes mean that the next edition of the individual player award will be for the 2021/22 season and not 2022, Naija News understands.
The organizers also noted in their series of changes that the upcoming World Cup will count for the 2022/23 season.
The publication, Naija News understands, contained an entity revolution compared to what has been before now.