World Will Hold Russia Accountable Over Ukraine Attack – Biden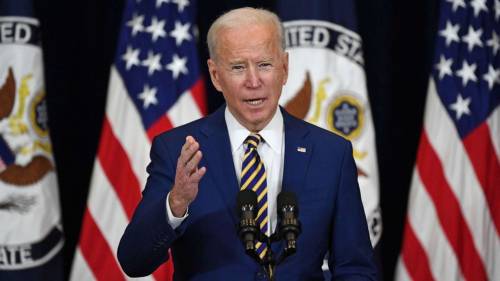 United States of America President Joe Biden has condemned the military attack and invasion of Ukraine by Russia.
Naija News earlier reported that Russia on Thursday morning announced that it has destroyed Ukrainian military airbases and its air defence systems.
In a statement issued by Russia's Defence Ministry, the government added that Kyiv's air defence systems were also "eliminated" in the attack.
This is coming hours after Russian President Vladimir Putin launched a military offensive against Ukraine to defend separatists in the east of the country.
In a statement released by the White House after the attack on Ukraine, US President said the world will hold President Putin accountable for the loss of lives in the country.
The US leader described the attack on Ukraine as unprovoked and unjustified, adding that more sanctions would be imposed on Russia and its business entities.
Biden said he would address the United States on Thursday to announce the further consequences the United States and our allies and partners will impose on Russia.
The US president said he held a phone call with his Ukrainian counterpart, Volodymyr Zelensky after the attack on Ukraine, which is sandwiched between Russia and NATO member Poland.
Biden said: "The prayers of the entire world are with the people of Ukraine tonight as they suffer an unprovoked and unjustified attack by Russian military forces. President Putin has chosen a premeditated war that will bring a catastrophic loss of life and human suffering.
"Russia alone is responsible for the death and destruction this attack will bring, and the United States and its allies and partners will respond in a united and decisive way. The world will hold Russia accountable."