2023: AfDB President, Adesina Urged To Declare Presidential Bid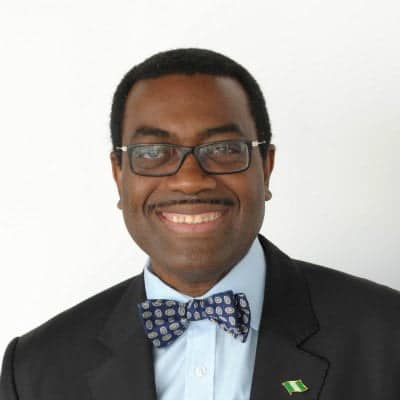 The President of the African Development Bank (AfDB), Dr Akinwumi Adesina, has been urged to declare his presidential ambition and succeed President Muhammadu Buhari.
This was disclosed in a statement released by a group of women activists named Women for Secured Nation and issued by its spokesperson, Judith Onyekwere, on Sunday in Benin.
According to the group, the former Minister of Agriculture has the competence, charisma and capacity to be the next President and turn the fortunes of the country around.
The group said the county needs Adesina who is a technocrat with proven integrity, adding that his experience and track record of achievements makes him the best candidate for the position.
The statement read in part, "At this point, we don't just need a politician as president, we need an expert, a technocrat with multinational connection and proven integrity.
"This is why we are calling on Nigeria's former Agriculture minister to take up the challenge, as a call to service, to help rescue Nigeria from its current predicament. We can no longer wait for career politicians to drive our national ship to wreck before we call for a rescue.
"At this point, the Nigerian citizens should rise up to help the various political parties to get their candidates, devoid of all tricks, in the interest of our collective future."
The group stated that the country needs someone like Adesina who has the ability to drive faster-paced economic growth, development and solve the various issues facing the country.
It added: "Nigeria is desirous of someone to help revamp and grow its economy, drive faster-paced economic growth and development, inspire the youth, create jobs and solve insecurity challenges.
"Someone who can help grow the private sector and attract investments to create wealth. Someone who will help the constituent states of Nigeria to grow their economies and assure decentralized economic development and drive for fiscal, economic and political empowerment of the states.
"Someone who is de-tribalized and able to manage diversity. Someone who will drive inclusiveness and assure national unity and coherence. Someone who has a record of transparency, integrity and good governance and will be well respected and trusted across Nigeria.
"Someone with a solid track record of achievements and getting things done. Someone who can work effectively globally and give Nigeria a much-needed global standing on critical global and Africa agendas.
"Someone who will prepare Nigeria for the 21st century as a globally competitive and prosperous nation. Someone who can work effectively with and will be trusted by other leaders in Africa."