Secondary School Defends Staff Accused Of Child Abuse
A secondary school in Akwa Ibom, King Solomon Secondary School has reacted to the allegation of child abuse against one of its teachers.
A Facebook user identified as Celestine Mel shared photos of a student with marks on her body.
Mel claimed that the girl who is in SS3 was beaten because her school uniform was too short and goes against the bible.
The post read in part: "When a relation of mine forwarded disturbing images, regarding the bestial brutality visited on her daughter, who is an SS3 student of King Solomon Secondary School, a privately owned co-educational institution in Uyo – Akwa Ibom by Mrs. Ndifreke Etim Asuquo, the daughter of the proprietress, who also doubles as the school's admissions officer to me today, I was initially hesitant to believe my eyes. The gravity and beastliness of the sight scared daylight out of me. It was a Monday morning, and I was busy at work. I needed to focus on my to-do list and the many Monday meetings. So, I let it be.
"Upon returning home this night, I demanded for and got the phone number of the beastly child-abuser. A woman for real? I was filled with more rage; too bitter to ring her up, to ask why she defiled this little angel so cruelly. As the adrenaline rushed down my veins, I summoned the courage to dial her. I needed to hear her side of the story. To be fair to her. And my conscience. I needed to convince myself that it was a dream."
Reacting to the allegation brought against them, the school released a statement which condemned Mel's post stressing that his account of the incident was exaggerated.
The statement read in part: "While it is obvious that the version of the story circulated by Mr Mel is an exaggeration of the true state of things, we acknowledge the established grievances of (the) girl's parents who have remained reliable stakeholders in our school and have taken steps to resolve the issue amicably.
"It should also be known that our school has never condoned child abuse of any kind, or harbour abusers. Our staff are well cultured and our students are bred in line with accepted standards of school administration. The staff in question is one of our best and does not deserve the unpleasant tags on her personality."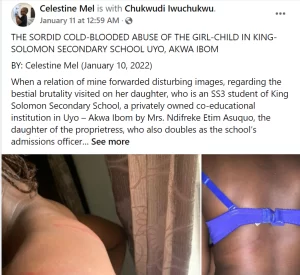 Download NAIJA NEWS app: