Reactions As Pope Says Sex Outside Marriage Not The Greatest Sin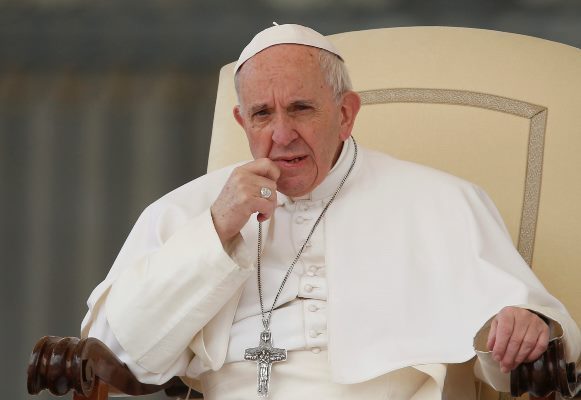 Pope francis has revelaed that sex outside marriage is not the most serious sin.
The clergy man revealed this in a question and answer session during a flight from Greece to Italy on Monday.
When asked about the Archbishop of Paris Michel Aupetit's "ambiguous" relationship with a woman, the pope had stated that the sins of the flesh were not the most serious.
He said: "Sins of the flesh are not the most serious," adding that pride and hatred are "the most serious".
Aupetit resigned after the allegations brought against him, but he had insisted that he did not have any sexual relation with the woman in question.
Below are reactions to the pope's comment.
Dani: "Totally unbiblical. God does not look at sin the way we do. There's no scale that decides who has offended God the most. A murderer can repent and a liar can struggle."
Kingsly Anyaegbu: "Well body no be firewood..I suggest they should allow d priest to marry dan all dz their hide and seek game of fornication"
Anonymous: "There are no categories of sin. Sin is sin finish. Even though we dey chop without being married, don't make me think its right."
Femi Edobor: "Our respected Pope had said well, humanly speaking. As far as the bible, a sin is a sin. 'All have sinned and fallen short of His mercy '. As for me, Iam a sinner just saved by grace. It is also written, 'without holiness no one can see the Lord'. He is holy, if you want to stand before him, you must be holy."
ISAAC ABAH: "With all due respect to the Pope and every reader, Please there is nothing like serious sin. Sin is Sin and no sinner will see God."
Download NAIJA NEWS app: