Not Boko Haram, ISWAP Or IPOB – Defence Minister Raises Alarm On New Threat Facing Nigeria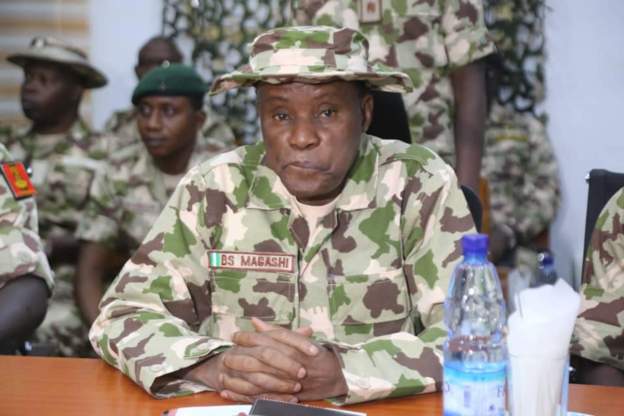 The Minister of Defence, Major General Bashir Magashi (rtd) has raised a fresh alarm about the threat facing Nigeria as a people and as a country.
According to the Minister, the country is facing the threat of national food security and the situation has been amplified by the challenges of insecurity.
He made the submission on Monday while speaking at the Defence Advisers/Attachés annual conference organized by the Defence Intelligence Agency (DIA).
Magashi observed that the high cost of foodstuffs in the market is a threat to the economic life of the country and its citizens and must be brought under control.
In his words, "Food security has been adversely affected with the attendant rise in the prices of foodstuff across the country which portends a new dimension of threat.
"This makes it imperative for the various security agencies in the country to continue to collaborate to tackle these menaces in order to create an enabling atmosphere for economic activities to thrive and to attract Foreign Direct Investment".
Magashi added that while Boko Haram/ISWAP attacks remain a security threat in the Northeast, bandits in the northwest and northcentral are also sources of huge concern with the Biafra secessionist threats championed by the Indigenous People of Biafra (IPOB) in the south-south and southeast, as well as the farmers/herdsmen clashes and the activities of Yoruba nation agitators all issues the military and other security agencies also have to contend with.
He submitted that all the aforementioned issues have their own impacts in no small measure on the food security threat facing the country but the government has to constantly deploy means of overcoming the challneges.
He said: "A look at the security challenges in Nigeria today reveals new dimensions with increasing agitations for secession.
"In the North East, attacks by Boko Haram Terrorists (BH) and the Islamic State in West Africa Province (ISWAP) continue to pose serious security threats in Nigeria.
"In the North-West and North-Central Zones, the activities of armed bandits, armed herders/militia attacks and kidnappers are prevalent.
"The littoral states in the South-South region are plagued with illegal oil bunkering, piracy and militancy while the South-East is challenged with secessionist activities of the Indigenous People of Biafra (IPOB).
"The South-West region is equally faced with secessionist inclination driven by ethnic agitators as well as occasional tension between herders and farmers. Distinguishing the threats Nigeria is currently facing and understanding their socio-geographic context is pivotal for adapting appropriate and lasting counter-measures.
"Regrettably, the prevalence of these threats has continued to endanger not only national security and economic growth but food security as well. In particular, it also means that the security agencies must explore all avenues within their respective systems to come up with innovative ways of identifying and confronting the challenges facing us as a nation".
Download NAIJA NEWS app: