President Buhari To Give Ortom, Akeredolu, Others Ranching Funds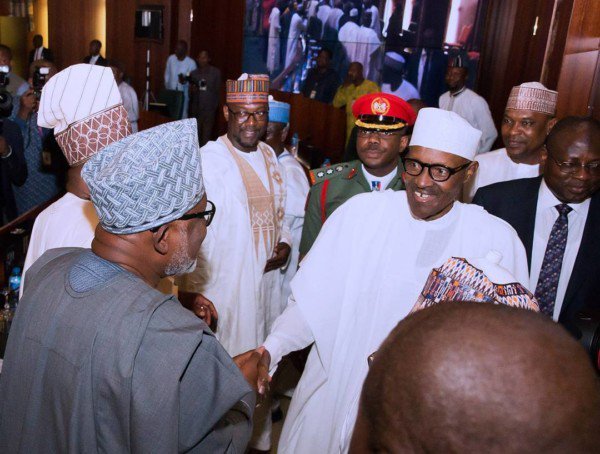 President Muhammadu Buhari is set to direct the disbursement of funds for model ranches in 22 states in the coming weeks.
In an interview with The Punch, the Senior Special Assistant to the President on Agriculture, Andrew Kwasari, said the 22 states have indicated their interest in setting up ranches.
Kwasari stated that the government set up the National Livestock Transformation Programme (NLTP) in 2018 to curb the incessant farmers-herders clashes.
He stated that states that have indicated their interest in the programme include Benue, Ondo, Kaduna, Taraba, Adamawa, Plateau, Zamfara, Kano, Katsina, Bauchi, Yobe, Borno, Gombe, Nasarawa, Niger, Sokoto, Ekiti, Kogi, Ebonyi and Kwara.
He noted that states like Nasarawa, Adamawa, Plateau, Taraba, Gombe, Kogi, Kwara and Ondo, had met the NLTP conditions and would be supported by the Federal Government in establishing model ranches.
Kwasari said Nasarawa and Plateau would be getting financial support from the Federal Government for the establishment of model ranches in about a week.
The presidential aide, however, said that the ranching programme had reduced the clashes between farmers and herders in the country in the last 12 months.
Kwasari refused to specify how much the Federal Government would give as support but disclosed that to build a pilot ranch for the training of pastoralists and crop farmers costs about N400m.
He said: "I have the list of all the governors, who have written to participate in the NLTP. There are 22 governors, who wrote to express interest in the NLTP.
"That is the first condition in the NLTP document. This project is not just something that is done on paper. There are guidelines as approved by the National Economic Council.
"In fact, this morning (Tuesday), I was following up with the accountant-general's office concerning the pilot money to Nasarawa and Plateau.
"We are expecting the Federal Government to credit Nasarawa and Plateau's accounts; their sites are ready for take-off to build the first ranch and to train pastoralists in how to build ranches."