Anti-open Grazing Law: Fight For Your Rights – Malami Tells Herdsmen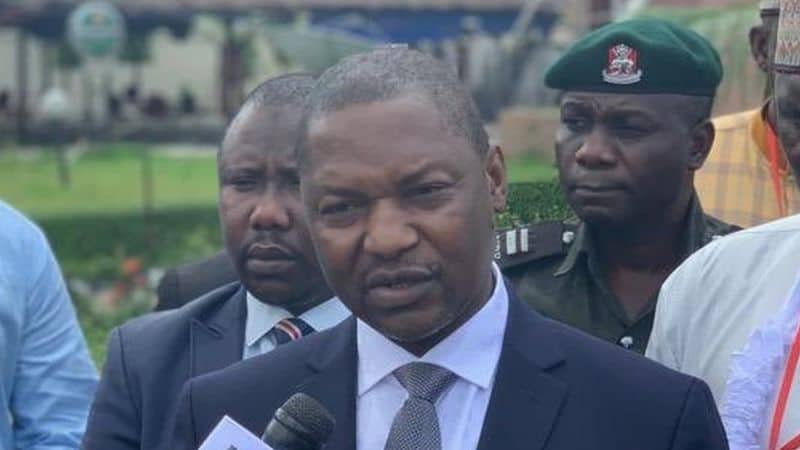 The Attorney General of the Federation and Minister of Justice, Abubakar Malami (SAN), has asked herders to fight for their rights if they feel they had been violated.
The Special Assistant on Media to the minister, Dr Umar Gwandu, disclosed this in an interview with The Punch on Sunday.
Gwandu stated that Nigerians whose rights had been violated as a result of the signing of the anti-open grazing law could go to court to seek protection.
He made this known while reacting to the law recently signed by Lagos, Ondo, Oyo, Osun, Ekiti, Abia, Bayelsa, Rivers, Akwa Ibom, Enugu, Delta and Ogun states.
He said: "The rights trampled upon are individual rights of Nigerians as constitutionally guaranteed.
"The Nigerians whose rights are violated reserve the right to approach the court for the protection of such rights within the context of freedom of movement among others. It will be viewed with that consideration in mind."
In other news, traditional rulers in the Badagry Division of Lagos State have backed the presidential ambition of the national leader of the All Progressives Congress (APC) leader, Bola Tinubu.
Naija News reports that the monarchs endorsed the former Lagos State governor at a town hall meeting organised by the South West Agenda (SWAGA'23) on Sunday.
Speaking at the meeting, SWAGA'23 National Chairman, Senator Dayo Adeyeye, commended the traditional rulers for backing Tinubu.
He said: "It is widely known that Bola Ahmed Tinubu's philanthropic gestures is second to none. He equally fought for Nigeria's democracy and performed brilliantly as a governor.
"I want to categorically submit that Tinubu's case has gone beyond Lagos as most political parties have endorsed him in Ogun, Oyo, Osun, Ekiti, and Ondo States."
The monarchs that backed Tinubu's presidential ambition include: Oba Momodu Afolabi, Onijanikin of Ijanikin; Oba Nofiu Dada Elete of Ete Kingdom; Oba Abideen Adekanbi, Osolu of Osolu Kingdom; Oba Mobadenle Oyekan Onilado of Ilado; Oba Caleb Adeniyi, Olojo of Ojo; Oba N. A. Akinyemi, Alabirun of Ikare Kingdom.
Others are Oba Taofik Adegboyega, Alahun of Imore Apapa; Oba Gausu Rasak Ovaria of Ibeshe; Oba Kasumu Kosoko, Elekunpa of Ekunpa Kingdom; Oba Musiliu Adio Yussuf, Onisiwo of Tarkwa Bay; Oba Olayinka Lateef, Alado of Ado Kingdom.
Oba Adesina Asade; Oniba Ekun of Iba Kingdom; Oba Sherif Adesina Bello Onigbanko of Igbanko Kingdom, and Oba Josiah Ilemobade Aina, Oloto of Oto Kingdom.