UNGA: Buhari Seeks Debt Cancellation For Nigeria, Others From Developed Countries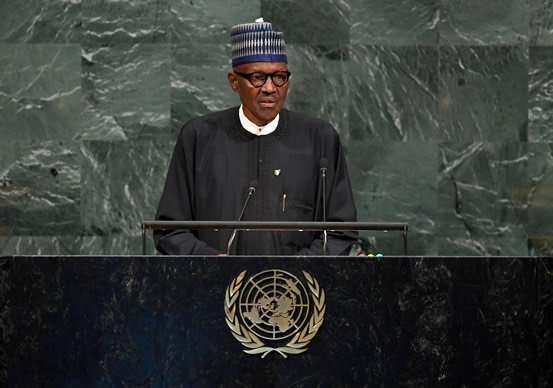 The President of Nigeria, Muhammadu Buhari on Friday appealed to the international financial institutions and developed countries to consider debt cancellation for their debtors.
This is as Buhari noted that the global COVID-19 pandemic has negatively affected the funds available to countries like Nigeria as well as their abilities to generate extra funds to meet their financial obligations.
Speaking in New York while addressing other world leaders during the 76th United Nations General Assembly, President Buhari observed that many under-developed and developing nations are in serious financial pains.
He observed that this is as many of them have to spend scarce resources on debt servicing.
To help mitigate the challenges caused by scarcity of funds, the Nigerian leader called for a review of the eligibility criteria for debt suspension, including outright cancellation for developing and least developed countries.
He said: "On the issue of debt, we have seen that developing countries have been faced with unsustainable debt burdens even before the pandemic. The COVID-19 pandemic has increased the risk of new wave of deepening debt, where vital public financial resources are allocated to external debt servicing and repayments at the expense of domestic health and financing for critical developmental needs."
"I must commend the current initiatives by the international financial institutions and the G20 aimed at significantly mitigating the economic situation of the indebted countries and urge for more efforts in this regard.
"Therefore, there is an urgent need to consider expansion and extension of the Debt Service Suspension Initiative to include all Developing, Least Developed Countries and Small Island Developing States facing fiscal and liquidity challenges.
"In addition, a review of the eligibility criteria for debt suspension, including outright cancellation, is needed for countries facing the most severe challenges."
Meanwhile, it will be recalled that shortly before the President travelled out of the country for the UN meeting, he forwarded a letter to the National Assembly seeking the approval of the lawmakers to obtain fresh foreign loans.
Naija News recalls President Buhari in a letter read in the Senate last Tuesday by Senate President Ahmad Lawan, sought the approval of the lawmakers to borrow fresh $4,054,476,863 and €710 million external loans.
Buhari in the letter urged the National Assembly to approve grant components of $125 million.
He explained that due to the demands in the country, there is a need to raise more funds for some "critical projects".
A similar letter of request was also forwarded to the House of Representatives under the leadership of Speaker Femi Gbajabiamila.