Bandit Terrorists Fire Military Aircraft Searching For Major Abducted From The NDA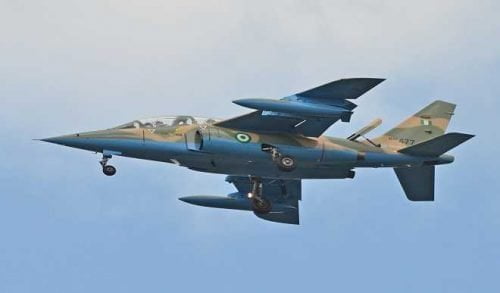 Bandit terrorists on Friday reportedly shot at a military aircraft while searching for Major Christopher Datong who was abducted during an attack on the Nigerian Defence Academy.
It was gathered that the surveillance was also hindered by weather which makes it difficult for the military aircraft.
A source that spoke with SaharaReporters on the development said, "Of course, there are several groups of bandits, and no one is 100 per cent sure which group is holding the Major. You cannot bomb them because you want to ensure you do not destroy the victim with the suspects. The weather is also not helpful. They shoot at military aircraft if you fly too low. They shot at our aircraft, including these ones conducting the search. So, the guys searching from air are not able to search all day."
Another source when asked if the military is negotiating the payment of ransoms said, "That is unconfirmed. No bandit can approach the military for ransom. That is the height of death. We cannot think it not to talk of paying ransom."
The Defence Headquarters on Wednesday had said Abuja was coordinating a search and rescue operation for Major Datong.
The Director, Defence Information, Maj Gen Benjamin Sawyer had stated this in a press release.
He said, "Let me use this opportunity, to reiterate that the NDA authorities, acting on the directive of the Chief of Defence Staff has constituted a board of enquiry to ascertain the remote and immediate cause(s) of the breach of security with a view to sanction any personnel found culpable and also prevent future occurrence.
"Let me also assure that we shall continue to update the general public as events unfold as we are all aware the search and rescue of the abducted officer is still on. Troops of the Armed Forces of Nigeria will continue with its operations to ensure all those involved in the dastardly act are brought to justice."