Buhari Off To London For Another Medical Check-Up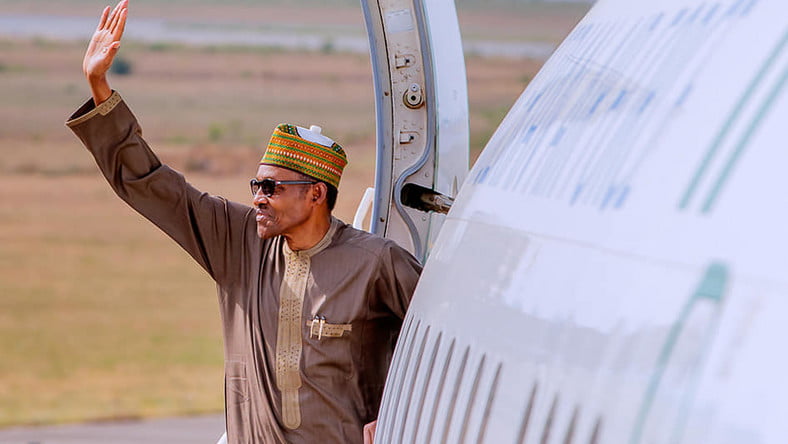 President Muhammadu Buhari will on June 25 depart for London, United Kingdom, for a scheduled medical follow-up.
Naija News reports that this was made known on Thursday by the Special Adviser to the President on Media and Publicity, Femi Adesina.
According to Femi Adesina, President Buhari will return to the country during the second week of July, 2021.
"President Muhammadu Buhari will proceed to London, the United Kingdom on Friday, June 25, 2021, for a scheduled medical follow-up.
"He is due back in the country during the second week of July 2021," the statement read.
The trip came barely three months after Mr. Buhari travelled to the United Kingdom capital on March 30, 2021, to see his medical doctors, whom he said he had consulted for decades.
During the last trip, the president overstayed the period he said he would return to the country by several days.
In other news, a former Governor of Ogun State, Olusegun Osoba, has condemned the Muhammadu Buhari-led government over its decision to ban the operations of Twitter in Nigeria.
Speaking in an interview with The PUNCH on the Twitter ban, Osoba, an ally to Bola Tinubu, insisted that such moves by Buhari's government must be resisted.
The APC chieftain added that this is not the first time the federal government is trying to control the media, recalling that he had spent time in detention fighting for press freedom.
Osoba said: "Again, we will continue to resist it. This will not be the beginning or the end of measures by different governments to want to contain and control the media.
"We will be the ones to continue to resist such. I have been in detention many times in the past all because of the news I wrote. None of my stories have ever been denied, but governments all over the world will want to hide under security threats to do what they do.
"We are the ones that must continue to show that what we are doing is helping the nation and making sure that there is restraint on the part of those in authority."