How €400m Maritime Equipment Bought By Obasanjo Disappeared – Amaechi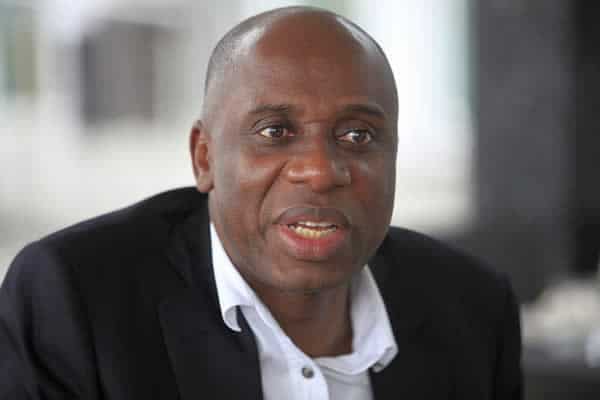 The Minister of Transportation, Rotimi Amaechi, has alleged that the €400 million equipment bought by the Olusegun Obasanjo government to fight insecurity in the maritime sector has disappeared.
He made this allegation at the inauguration of the Deep Blue Project at the ENL Terminal, Apapa Port, Lagos on Thursday.
The minister accused the Nigerian elite operating in the sector of unpatriotic acts, adding that a war was waged against him during the implementation of the project by stakeholders in the industry.
Amaechi, however, said he was determined to complete the task, saying that he survived the conspiracy.
He said: "Just because of this project, three committees were set up against me; one led by the vice-president, one by the minister of defence and another by the EFCC.
"While they were set up and all of them were cabinet committees; the accusation was this is Amaechi's contract. Mr. President, I don't do contract.
"But I want to tell you why I did it. Nigerians are not patriotic, most elites are not. They were making billions of money in insecurity. Anybody who wants to fight insecurity, they will fight the person and I was very determined.
"I am surprised that the MD of Shell read his speech without saying that the oil companies met and promised me a gift if I can survive in this war. This war has sacked two ministers, they were taken to the EFCC and they were sacked.
"This war, under President Obasanjo; they spent between €300 million and €400 million to buy the same equipment we have bought and they have disappeared.
"Until the day you sack me or I leave office, I will make sure that this equipment remains because Nigerians who do business on the water are not good people. Most unpatriotic Nigerians are not good."