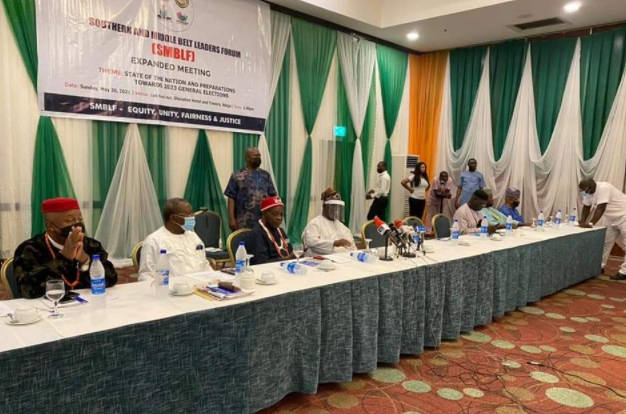 The Southern and Middle Belt Leaders Forum (SMBLF) has said power should go to the Southern part of the country in 2023.
In a communique issued after the forum's meeting in Abuja on Sunday, the forums asked Northern politicians to support the South in producing President Muhammadu Buhari's successor.
The leaders also asked the federal government to support the call for a ban on open grazing in the country.
The forum asked the federal government to accede to the resolutions of the Southern governors on national dialogue, open grazing, and restructuring.
According to the communique, the forum "insists that it is imperative to immediately restructure the country considering the precarious prevailing atmosphere before any further elections".
The forum also "reminds all leading political parties, especially the All Progressives Congress (APC) and the People's Democratic Party (PDP) and other political parties, that the basis of any viable democracy, especially in a diverse and complex country such as Nigeria, rests in fair and even sharing of power".
The forum also called on the federal government "to declare a national emergency on security and urgently come up with proactive strategies to restore peace and security to all parts of the country".
It added that "If the security situation is not dealt with and banditry stopped or reduced to the barest minimum, it would not be feasible to have proper elections in 2023".
The forum also condemned the "cavalier attitude" of the federal government towards the resolutions of the southern governors.
Follow @naijanews