Adesina Under Attack For Saying Nigerians Will Praise Buhari In 2023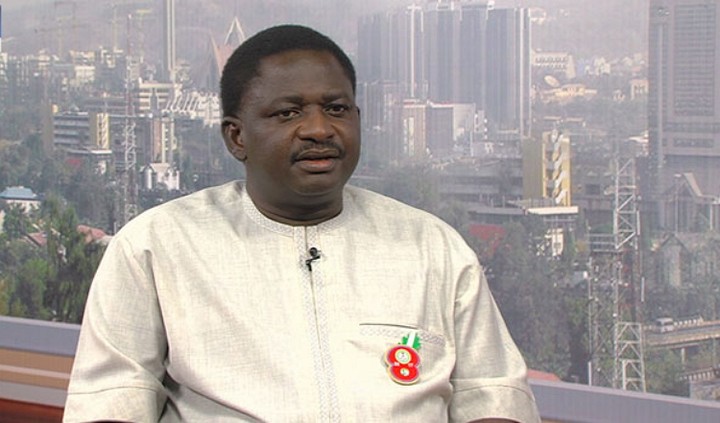 Presidential spokesperson, Femi Adesina has come under a barrage of attacks from Nigerians on Twitter after he submitted that the Muhammadu Buhari administration has made giant strides in making Nigeria better.
The presidential media aide submitted on Friday that when the administration of President Muhammadu Buhari comes to an end in 2023 Nigerians would praise the president and his team.
Naija News reports that Buhari Media Adviser, Femi Adesina, made this known in a statement titled 'The Buhari Administration at 6: Counting the Blessings One by One' on Friday.
He stated that Buhari's administration had recorded giant strides in various sectors of the economy that would be recognized by "those who are dispassionate and fair-minded, not beclouded by political partisanship and undue cynicism."
However, his position did not sit well with many people who took to their Twitter account to call out Mr. Femi Adesina.
Below are some reactions compiled from Twitter by our correspondent.
We should all pray for Adesina that God should do his life the way Buhari is governing nigeria..

— Olashile Cosby (@olashilecosby) May 28, 2021
Adesina wants us to rain curse on him. 😭😭😭😭😭

— MOST CALM 🇨🇦 (@LZhimple) May 28, 2021
Femi Adesina does not know what it means to farm and cattle will run it down, the owners of the cattle will still kill your brothers in the mos barbaric way, rape your daughters and wives, even rape the men in front of their wives, Femi does not know. Let me not pray bad for you.

— Paul Smith Obasi (@UnclePauly) May 29, 2021
Adesina , you are one The problems of Nigeria. You people doesn't tell this man the Truth. His not doing well. Let him resign Honourably.

— Mike (Oil) (@Mikeoil3) May 29, 2021
Mr adesina ,what a disgraceful statement what will Nigeria appericate ?d unemployment rate ,,2 digit inflation rate ,bad road , kidnapping, genocide, nepotism & religion bias etc .sir go and stay in ur home town for a week then you will understand better

— Demand (@mathewakinyele) May 29, 2021
an achievement that can never be overlooked but make Legit help us tell Femi Adesina that the blood of those innocent children that has been killed and that will be killed will not let him and his Mr president reap the fruits of their labor.🙏🙏🙏

— No Name (@Olatunji_korex) May 29, 2021
Anytime I see Femi Adesina trending, I just know he has blown another big fat lie. Buhari's ass licker, he never disappoints.

— Freda💎 (@Jaccy_Ambrose) May 29, 2021
Femi Adesina is the worst thing Buhari administration produced. Dude is even worse than Buhari https://t.co/H77LjHAolB

— Sucre Papito (@Igbago1) May 29, 2021
Adesina heaven will judge you and your seed

— RICHARD ALOYE (@richiebanti) May 29, 2021
Its a pity that adesina @ dis age is still saying things without a processing it……
We move

— Ebux (@smartebux) May 29, 2021
Femi Adesina is suffering from tuberculosis of the mouth.

Initially I thought this Femi has brain but government has shown me that his brain is with where his paymaster is.

Thunder fire you with that statement

— Ugosky (@Ugosky60) May 29, 2021
Ashiwaju I think the prayer should be Adesina! From now on, may God ruin your life just like buhari has ruined this nation. Amen.

— Akinyemi abolaji (@bholerjyarch) May 29, 2021
I'm very sure it's Desmond Elliot that told Adesina to say this rubbish🤦‍♂️ https://t.co/QMiuCETUT0

— D'Instigator (@iamhusby) May 29, 2021
The level at which Adesina has descended to sycophancy is quite baffling. This is one of the implications of selling out your voice for crumbs

— Kabuo🇳🇬 (@emma_kabuo) May 29, 2021
What are we going to praise failed president nd his government for? maybe for deplorable bandits kidnapping nd killing everywhere. Shameless tweet Adesina

— Taiye Ogunsola (@Ogunstj) May 29, 2021