How I Escaped The Plane Crash That Killed Attahiru – Namdaz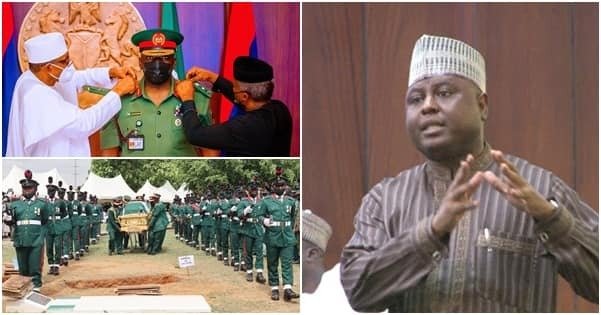 A member of the House of Representatives, Abdulrazaq Namdaz has described how he was about to board a plane that crashed, killing Army Chief Ibrahim Attahiru and 10 other officials.
Namdaz, who chairs the National Military Affairs Committee, made the announcement in an interview with Channels TV on Sunday, May 23.
The lawmaker said he had been invited to attend a military parade in Zaria, Kaduna State. He said that if he did, Attahiru would surely be followed.
Namdaz said that despite his invitation, he was unable able to attend due to the work of his special ad-hoc committee task.
The lawmaker said: "I was invited to attend the passing out parade in Zaria, Kaduna State, if not because I had special ad-hoc committee work, I could have been on that plane".
Namdaz said he was shocked by the news of Attahiru's death and described the day of the accident as a black Friday.
The lawmaker said Attahiru had expressed his ability and potential to end Boko Haram terrorism in Nigeria.
The lawmaker lamented the lack of quality aircraft in Nigeria. He described the situation as "unfortunate" as the country has faced three air crises in two months.
Namdaz called on the federal government to take immediate action to address the problem of speedy development and loss of life.