Fulani Herders Kill No Fewer Than 10, Kidnapped 25 Farmers In Oyo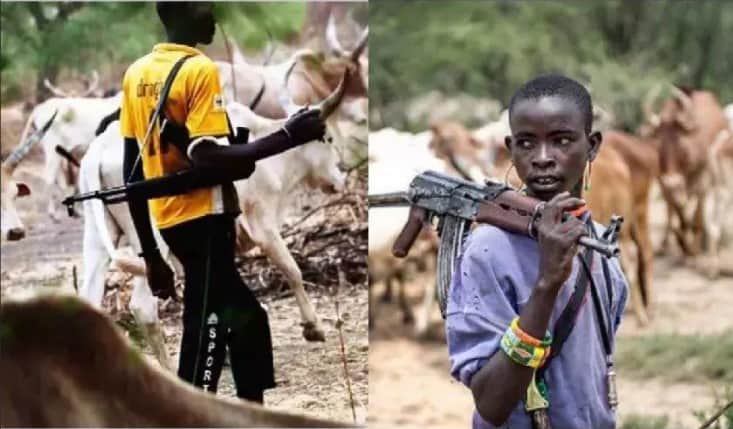 A coalition of Yoruba youths, which has its name as the Lanlate Renaissance, has alleged that no fewer than 10 persons have been murdered by Fulani herdsmen in the Ibarapa area of Oyo State in the last two years.
The group in a statement made available to newsmen on Sunday, January 24 noted that the herders had kidnapped at least 25 farmers in the community, causing many farmers to abandon their farm products.
The Lanlate group in the statement issued by its secretary, Abimbola Adeyeri, expressed worries that Oyo State Governor, Seyi Makinde and members of the state House of Assembly had refused to act in their favour over recent happenings which involved its hero, Sunday Adeyemo Igboho.
Naija News understands that the Inspector General of Police, Mohammed Adamu had ordered the arrest of Igboho following his directives to Youths to evict Fulani from the Ibarapa area.
"The Fulanis have not been without pains, sorrows, and tears over the years. The people in Ibarapa are helpless, restless, and despondent over the activities of some unscrupulous herdsmen and criminal gangs that have been kidnapping, killing, and extorting money from helpless citizens through ransom payments. They invade our farms, rape our young ladies and women, destroy our properties, and recently became bandits and terrorists in our midst," Adeyeri's statement reads in part.
The statement reads further that "for many years, farm plundering was the full-time business of the Fulani herders, growing audaciously in bounds even as their highest authorities and agents of government ensured no Fulani was prosecuted for offences they were caught committing. When they are caught in the dastardly acts, they will result in violent attacks with machetes and guns.
"Every arrest would be truncated by their Seriki, and the bulk of the world felt the gory episodes ravaging Ibarapa land was just a series of exaggerated tragedies meant only to discredit the perpetrators.
"For the purpose of records, we shall elucidate on some of the prominent killings by these people in our domain that have gone unabated with an astronomical spike in the last 24 months resulting in about 10 deaths and over 25 abductions.
"Each of the towns in Ibarapa has had a fair share of these dastard acts of these blood-thirsty herders. In September 2019, four staff of Oyo state College of Agriculture and Technology, Igboora were kidnapped and were later released after payment of ransom.
The Yoruba group leader recalls the killing of popular Lagos-based traditional medicine practitioner, Alhaji Fatai Yusuf, a k a, Oko Oloyun, who was reportedly shot dead along the Igboora-Eruwa axis of Ibarapa by Fulani herders.
"Also, on the 10th of July, 2020, Ms Modupe Oyetoso and her fiancé were returning from their farm in Igbodudu, Lanlate around 5 pm when bloodthirsty herders accosted these young agropreneurs killing Modupe's fiancé and whisked Modupe away for two days," Adeyeri noted.
He added: "She spent two days with her abductors and only secured her release after an undisclosed sum of money was paid as ransom to the kidnappers. Modupe confirmed her abductors were Fulani.
Recalling prominent farmers allegedly killed by the Fulani herders in the region, Adeyeri in the statement said: "Today, Ms Modupe Oyetoso has abandoned her over 5,000 hectares of farm due to the trauma she passed through.
"Barely two weeks after Modupe's case, a Cocoa farmer and merchant, Alhaji Fatai Ogunniyi also known as 'Fatai Cocoa' was kidnapped on the Maya axis of Lanlate. He was later released two days after a huge ransom was paid. He confirmed that he was kidnapped by Fulani herders
"On the 12th of December, 2020, Dr Fatai Aborode, a prominent son of Igangan and a University of Glasgow, Aberdeen trained Chemist was murdered in cold blood on his farm by Fulani herdsmen.
"He has established hundreds of hectares of farmlands employing youths from his hometown Igangan and other sister communities of Ibarapa and beyond. No government statement or positive action to track his killers.
"It must be put on record that, since the hacking to death of Dr Aborode in Igangan in December 2020 no day has passed without the herders attacking, kidnapping, or even killing innocent Ibarapa indigenes.
"On the 2nd of January, 2021, Mrs Sherifat Adisa, the owner of Subawah Petroleum, and two other persons were shot dead by Fulani in Idere, another town in Ibarapa."
"Reports on the directive of the Governor and the Inspector General of Police to arrest Chief Sunday Adeyemo then rubbed salt on our injury as a people. Issuing tough orders will exacerbate an already charged situation. Makinde should use tact and "native intelligence" to handle this tense situation.
"Blame these irresponsible Governments and not Igboho who only filled a vacuum. Nature detests vacuum. Only in Nigeria would Fulani herdsmen rape, maim and kill mercilessly in their raid of farms and towns, and the IGP wouldn't order the arrest of any," the statement added.
Meanwhile, Human rights and constitutional lawyer Femi Falana has accused the administration of President Muhammadu Buhari of always coming to the defence of Fulani herdsmen, Naija News reports.
Download NAIJA NEWS app: