Buhari Always Coming Out To Defend Herdsmen – Falana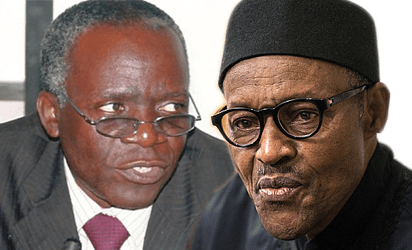 Human rights and constitutional lawyer Femi Falana has accused the administration of President Muhammadu Buhari of always coming to the defence of Fulani herdsmen.
Naija News recalls that Akeredolu had ordered herdsmen in the state to vacate the forest reserves within a period of seven days counting from Monday, 18th January.
The Governor also banned night grazing as well as highway and under-age grazing in the state.
But the presidency in a statement by President Muhammadu Buhari's media assistant, Garba Shehu, rejected Akeredolu's ultimatum to herdsmen.
"It will be the least expected to unilaterally oust thousands of herders who have lived all their lives in the state on account of the infiltration of the forests by criminals.
"If this were to be the case, rights groups will be right in expressing worries that the action could set off a chain of events which the makers of our constitution foresaw and tried to guard against.," Garba Shehu said.
Speaking on Sunday while featuring on "The Platform", a Television Continental (TVC) programme, Femi Falana called on the Buhari government to defend the rights of all Nigerians.
He noted that the forestry reserve law in Ondo state requires compulsory registration for those who want to carry out operations there.
Falana said: "There is nothing strange whether you are talking of Benue or Ekiti state or whatever. The federal government has come in to defend herders, whether anti-grazing law or whatever. At the same time, the federal government does not defend the poor, the beggars, the destitute and others who are forcefully arrested and deported to their states of origin.
"The federal government does not bother because they belong to the flotsam and jetsam of the society. So, that is why people are wondering.
"The federal government is portraying itself as the defender of herders and it is not very good."
The senior lawyer noted that Akeredolu's directive should not have generated controversy in the country, adding that the Miyetti Allah association in the state should have met with the governor and registered its members so that they can continue with their cattle rearing business in the state.
"That shouldn't have attracted any controversy. What one would have expected the Miyetti Allah group in Ondo state to do is to ensure that all their members are registered; no more no less," he said.
Download NAIJA NEWS app: