Olowonihi 'Demoted By Magu' Emerges EFCC Academy Boss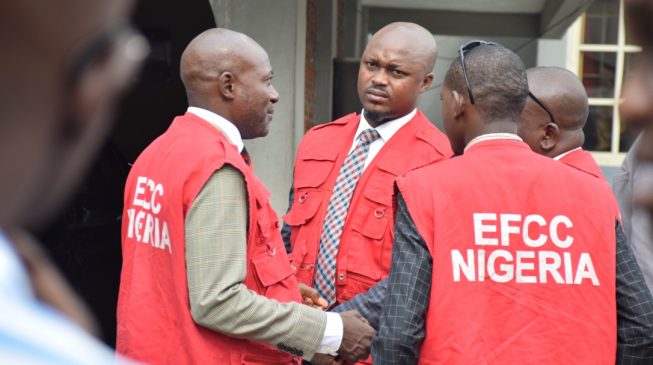 In a statement titled, 'Olowonihi Takes Over at EFCC Academy', on Monday the anti-graft agency spokesperson, Wilson Uwujaren, said Olowonihi had been appointed as the head of the academy.
The statement reads, "The acting Chairman of the EFCC, Mohammed Abba, has appointed Detective-Commander Ayo Olowonihi as Commandant, EFCC Academy, Karu, Abuja.
"Olowonihi takes over from Itam Obono, a Deputy Commissioner of Police
"The appointment which is with immediate effect was consummated with a hand-over ceremony today, Monday, January 18, 2021, attended by both Olowonihi and Obono with heads of departments and units of the Academy in attendance."
Olowonihi, who was on Grade Level 17 was suspended by the then acting Chairman of the EFCC, Ibrahim Magu, in 2015 and then demoted to Grade 16 by Magu in 2017, The Punch reports.
Following his suspension, Olowonihi dragged the commission to the National Industrial Court, where court documents showed Ayo claimed Magu invited to his office on November 19, 2015, and accused him of being behind some damning online publications on the activities of the commission and against the person of the chairman.
He said on Magu's directive, he was interrogated, his official computer taken away, while he two phones (MTN and GLO) were seized, adding that his office, after being thoroughly searched by a team of detectives and policemen, was sealed.
According to him, while interrogation was still on, Magu demoted him as commandant and redeployed him.
Olowonihi who won his case in court on February 26, 2019 was later dragged to the Appeal Court by the EFCC under the leadership of Magu.
But the Appeal Court in August affirmed the ruling of the lower court.