Biafra: Ex-IPOB Media Hitman Leaks 4 Major Secrets Of Nnamdi Kanu, IPOB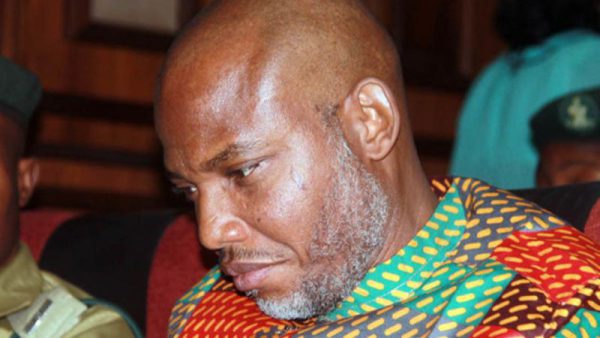 A former media hitman of the proscribed Indigenous People Of Biafra (IPOB), Kalu Nwokoro Idika, has opened up on some secrets of Nnamdi Kanu and the pro-Biafra group.
Naija News reports that Idika who joined the media wing of IPOB after Kanu was arrested in Lagos, Nigeria's commercial city before he was eventually sent to Kuje prison where he spent a year in detention, recounted why he abandoned Nnamdi Kanu and the pro-Biafra movement.
The former IPOB media hitman described Kanu as a dictator and serial liar who has succeeded in deceiving and destroying the lives of many youths in the Southeast region of Nigeria.
The top secrets of Nnamdi Kanu and IPOB
1. You Must Learn To Lie For IPOB
Asked if he was writing according to his own thoughts while in IPOB, Idika said: "No, I wasn't. I was writing according to the dictates of the group. Remember, IPOB operates under command and control principles. You don't dare write anything from a personal perspective. If you do, automatically, the person will be sanctioned and probably dismissed from the organization. There were a lot of IPOB officers that monitored writers and what they write. Moreover, for one to be recognized in the movement, you must learn how to write lies and sing the praises of Nnamdi Kanu. Many of the so-called Biafran journalists you see doesn't have a mind of their own."
2. You Don't Dare Question Nnamdi Kanu's decision
Idika when he was what caused his problem with Kanu, said: "My problem with Nnamdi Kanu started when I questioned some anomalies in the movement. You know, Kanu made himself in a way that no one makes the mistake of questioning whatsoever decision he takes in the group. I became worried after the election of 2019. The initial agreement back then was that the election will be boycotted. A press statement was issued by IPOB's publicity secretary, Emma Powerful, urging the people of Southeast to gear up for a possible referendum. Journalists were mobilized to different States, zones, and units to sensitize the people about it. Unfortunately, when we got to the peak of the whole campaign, Nnamdi Kanu suddenly made a revise and suspended the boycott through radio Biafra. Not only that, he lied to our people that the terms and conditions of IPOB had been met (which was signed, sealed, and delivered deal). Our people were asked to go and vote when millions of voters card were already abandoned at various INEC offices across the region all in the name of election boycott and referendum. How will they vote without a voter's card? Kanu never thought about that damage.
"Some of us decided not to ask questions at that very time. The few of us who became infuriated over the decision of Kanu decided to wait for the election to be over which we did. When I finally asked the powers that be the content of the deal that was signed, boom, attacks were coming from every angle. Some of his thugs started asking what gave me the temerity to question Nnamdi Kanu and the content of the deal that was signed. That was when I became aware that Kanu and his co-criminals aren't genuine. Then I said, if it has gotten to this level, I will leave the group. After a week, I issued an official press statement, informing the general public that I have left the group. Mind you, leaving the group gave me the gut to question their fraud."
3. Nnamdi Kanu Is A Dictator Who Lies And You Must Defend It
Asked why he called Nnamdi Kanu a dictator and serial liar on numerous commentaries, Idika said: "Of course, he is a dictator and serial liar. If he is not, why is he always afraid of questioning? Is he God? Even God is not above questioning. There are certain situations that can make a man question God. After all, our God is democratic in nature. Kanu is a man that doesn't want anybody to ask him questions. Anything he says is final. That is nonsense to me. I won't tolerate such a man. He will lie and also ask you to defend it when the same lie could probably take your head. He lied about UN-supervised referendum, 40 million ballot papers, Hitech farming, and none existing Biafran soldiers.
4. If You Are Against Nnamdi Kanu You Will Be Eliminated

"The lies are too numerous to mention. When one attempts to question him why all these promises never saw the light of the day, automatically, you will be tagged a saboteur, Fulani blood and DSS paid agent. The next action is your elimination. With all these, why won't I call him a dictator and serial liar?"
Why youths must abandon Nnamdi Kanu Idika
"Well, I will only advise the youths to stay away from Nnamdi Kanu. He has nothing to offer. Kanu is full of emptiness and noise. Yes, Nigeria has never treated us fine. I'm not pushing that fact out of the picture. Frankly speaking, I'm angry with Nigeria, likewise millions of Nigerian youths out there. But I will not buy the idea of pursuing justice in the manner the fugitive leader of IPOB is doing. Abusing the elders and threatening to kill people with contrary views is just stupid. We must apply caution and diplomacy in our dealings."
On Igbo Presidency in 2023, he said: "Yes, I do but even if an Igbo man should become the president in 2023, nothing will change in Nigeria. The major problem of Nigeria is the 1999 constitution. That military constitution should be discarded completely. The constitution is fraudulent because Nigerians never vetoed it."