Nnamdi Kanu Explodes Over Oyigbo Killings, Says It Will Be 'Avenged'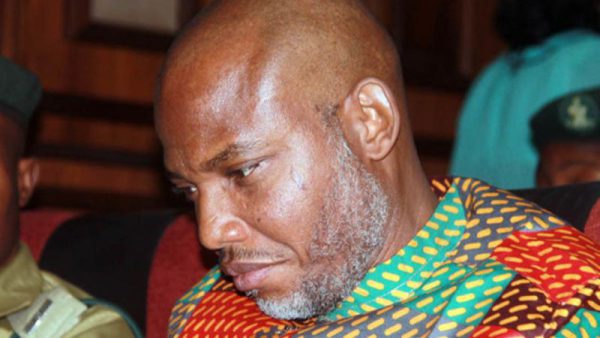 The leader of the Indigenous Peoples of Biafra (IPOB), Nnamdi Kanu, has lamented over the killings in Oyigbo area of Rivers State, south-south Nigeria, describing it as "crimes against humanity".
Naija News reports that the IPOB leader who doubles as the director of Radio Biafra, made this comment on the micro-blogging, Twitter on Tuesday, November 3, in reaction to the alleged massacre of Nigerians in Oyigbo, a place Kanu calls "Obigbo" (dominated by Igbos).
This online news platform understands that the Nigerian military has been in Oyigbo for more than two weeks to restore peace and order after IPOB members and security agents clashed, a situation which led to the deaths of some pro-Biafra activities as well as soldiers and officers of the Nigeria Police Force (NPF).
Reacting to the alleged massacre in Oyigbo, the governor of Rivers State, Nyesom Wike, had said although he did personally invited them to go to Oyigbo, as he has not been a good friend of the military, the killing of six soldiers, policemen, and burning of police stations were enough invitation for the military.
"I have never been a friend to the Nigerian Army. I did not send the military to Oyigbo. I am not loved by them. They are sponsoring a propaganda against me by saying I invited the army to kill Igbo people."
Governor Wike had said when "you kill soldiers and policemen and burn down stations, do you expect them, especially the army to go away?"
Reacting to the ongoing reported killings in Rivers State, Kanu said if any security agent were killed during the #EndSARS protests as claimed by Governor Wike and the Federal Government led by President Muhammadu Buhari, "it's a mere allegation that requires investigation, not lethal retaliation."
On this note, the IPOB leader stressed that the "killings at Oyigbo (Obigbo) are crimes against humanity that will be requited no matter how long it takes."
"If any security agent were killed during the #EndSARSprotests as claimed by @GovWike & @NGRPresident, it's a mere ALLEGATION that requires INVESTIGATION, not lethal retaliation. The killings at #Obigbo are CRIMES against humanity that will be requited no matter how long it takes," Kanu tweeted.
If any security agent were killed during the #EndSARSprotests as claimed by @GovWike & @NGRPresident, it's a mere ALLEGATION that requires INVESTIGATION, not lethal retaliation. The killings at #Obigbo are CRIMES against humanity that will be requited no matter how long it takes.

— Mazi Nnamdi Kanu (@MaziNnamdiKanu) November 3, 2020
Source: Naija News