Video: Watch Moment Civil Defence Officer Joined In Looting COVID-19 Palliatives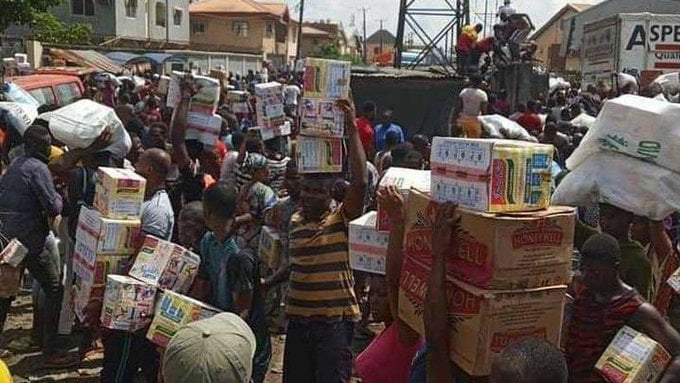 Cases of looting and vandalization of COVID-19 palliatives warehouses in various cities across the country has continued to make news headlines in recent days.
First reported in Lagos State, the looting of the warehouses has spread to other states such as Kwara, Ekiti, Plateau, Kaduna, Abuja, and others.
As earlier reported by Naija News, some residents of Abuja, the nation's capital on Monday raided a COVID-19 palliatives warehouse located in Gwagwalada, looting several items.
Several food items including bags of rice, cartons of noodles, cartons of milk, and tin tomatoes were carted away.
The warehouse looted is located near the West African Examination Council (WAEC) office, and is said to contain items belonging to the Federal Capital Territory Administration (FCTA).
However, a video showing an officer of the Nigerian Security and Civil Defence Corps (NSCDC) participating in the looting of the warehouse has gone viral on the internet.
In the video, members of the public were heard 'hailing' him, saying, officer! officer! as he made away with his own loot from the warehouse, but he didn't even give them any attention.
Watch the video as shared on Twitter.
Even our officers join us o???
Gwagwalada palliative ??#BETTERNIGERIA #endinjustice #EndBadGovernmentinNIGERIA #EndInjusticeInNigeria pic.twitter.com/wGTOyRxm6h

— ???? ❁ (@emmadeyforyou) October 26, 2020
Meanwhile, the Nigeria Governors' Forum has debunked the reports that palliatives uncovered by hoodlums in warehouses across the nation were intentionally hoarded by state governors.
According to the NGF in a statement on Monday, October 26, the reports making rounds in the media about the hoarding of the palliatives were untrue, insisting that the food items were stored purposely for members of the public, most especially the vulnerable.