Nigerians Displeased With Buhari's Silence On #LekkiMassacre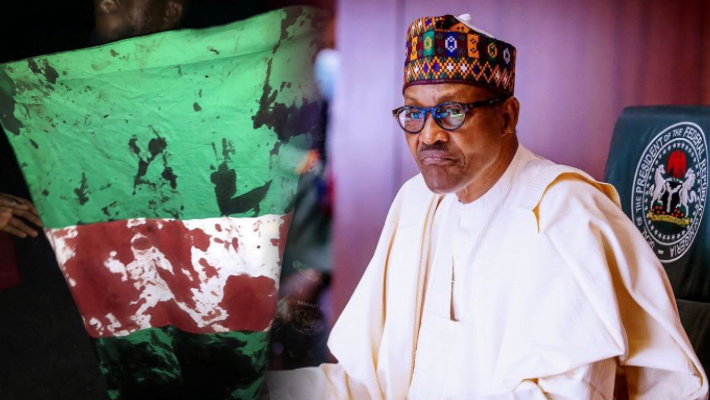 President Muhammadu Buhari on Thursday addressed Nigerians on the #EndSARS protests which had rocked Nigeria over the past few days.
The #EndSARS protests started as a peaceful protest demanding an end to the controversial Special Anti-Robbery Squad (SARS) unit of the Nigerian Police Force.
After the SARS unit was disbanded, the protests continued both online and on the streets demanding better governance in Nigeria.
However, some hoodlums have in recent days, hijacked the protests and have taken advantage to unleash mayhem in some cities, destroying both private and public properties, as well as looting shops and destroying infrastructures.
Meanwhile, some Nigerians are not pleased with the statement of the president for failing to speak on the Lekki shooting on Tuesday night.
Here are some reactions below:
No apology for lekki massacre and no condemnation to more like that in other places. No respect for the citizens. No photographer&[email protected] d scene. they took the recorded tape off and showed us nigerian flag, where is the live caption of him zooming of to? Where is @MBuhari?

— investorprince_ozi (@investorprince_) October 22, 2020
I expect President @MBuhari to sympathise with the victims Families and even reach out to the people Physically to build confidence, But wow! wow!! wow!!!

— DAY (@Dayveedlooka) October 22, 2020
His silence about the #lekkigenocide is a gross disappointment and is unacceptable.

It's so painful!
The death of our youths must not be in vain!
Reweet!#EndSars continues#Endbadgovernance

— James Ajayi (@ajayijames_) October 22, 2020
Can you imagine our president condemned invasion of Oba of Lagos palace but never condemned the killing of peaceful protesters by military. I'm sad so.. No value for life's

— Adebayo Adeyemi (@Americanalist2) October 22, 2020
I give up in this country I swear. No form of empathy in this speech,no to talk of addressing the #LekkiGenocide.I see an autocratic govt in place not a democratic govt.
My heart bleeds.

— Omomule Omolola (@Xty_lolita) October 22, 2020