Fact Check: Did Somalia President And His Vice Fight In Public?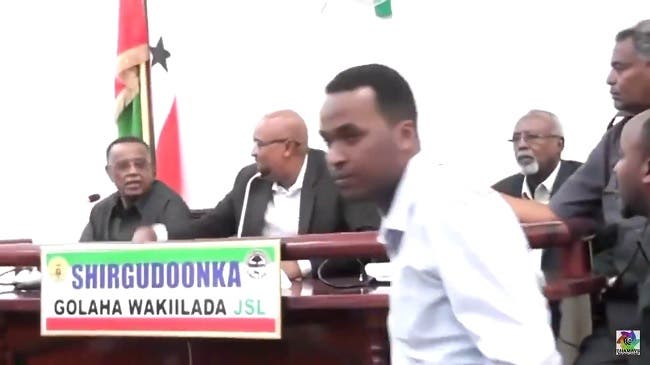 A video has been trending on Social Media platform depicting two men exchanging blows out of anger, persons who posted the video claim that the character in the video are Somalia president Mohamed Abdullahi Farmaajo and his vice president.
Claims
Some of the reports claimed that the alleged dispute between the president and his vice happened during a press conference hosted by the president.
There are other claims that the fact is as a result of the fact that Somaliland has not been at peace since its secession from Somalia.
The viral video was shared on microblogging/social media platforms including Facebook, Twitter and Whatsapp.
Some major news platforms including Vanguard and Elombah also published articles about the video.
Findings
A reverse search on the internet shows that the original video which was uploaded on the YouTube page of one Somaliland media station, Dhamays Media Production on September 12, 2015, has over one million views.
The caption on the video is: "Daawo Dagaalkii Shirgudonka Golaha Wakiilada Somaliland" when translated with Google Translator it means "Watch the War on the Speaker of the House of Representatives of Somaliland"
The video showed that the fight was between the former Speaker of the house of representative for Somaliland, Abdirahman Mohamed Abdullahi and his deputy Bashe Mohammed Farah.
Abdullahi was the speaker of Somaliland House of Representatives (lower chamber) between November 2005 – 2 August 2017.
Verdict
Claims that the fight was between the president of Somalia and his deputy is false, the video is from a dispute between the former Speaker of Somaliland house of representative Abdullahi and his deputy Farah.