You Can't Suspend Us – Anambra Monarchs Tell Gov. Obiano After Meeting Buhari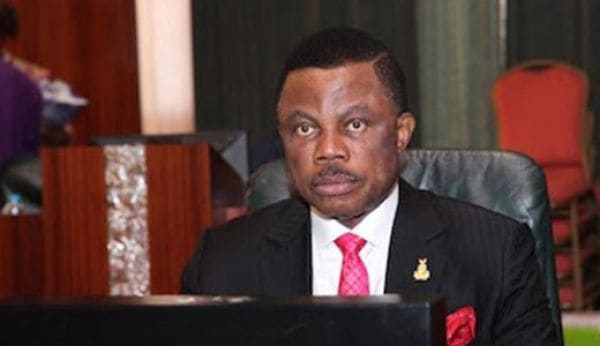 The Anambra traditional rulers suspended by Governor Willie Obiano have said they did nothing wrong to warrant a sanction from the state governor.
As earlier reported by Naija News, 12 traditional rulers were sanctioned by Governor Obiano for going on a trip to Abuja with Chief Arthur Eze to see President Muhammadu Buhari.
It was reported that the monarchs travelled with Eze to report the Anambra State Governor to the President, over his non-conduct of local government elections in the state and other issues.
On the trip were Eze Nkeli Nzekwe, Igwe Chuba Mbakwe, Igwe Chijioke Nwankwo, Igwe Anthony Onwekwelu, Igwe Chukwuma Bobo Orji, among others.
The delegation was unable to meet with the President but were received by his Chief of Staff, Prof. Ibrahim Gambari.
After the trip, the traditional rulers were suspended for one year by the Governor as he claimed he wasn't carried along before they made the journey.
However, Igwe Nwankwo who spoke on behalf of others said they have rejected their suspension and accused the governor of high handedness in managing the affairs of the state.
He added that Obiano was only trying to impose on the traditional institution and deny them their right of speech and movement as constitutionally provided for in Nigeria's constitution.
The traditional ruler maintained the governor's action was "an abuse of power and high handedness by a state government that has become increasingly desperate as the Governor Willie Obiano administration winds to a close.
"All what we have done were in exercise of our fundamental human rights and we emphasize that no one can take that from us."