List Of Senators Who Have Contributed To National Development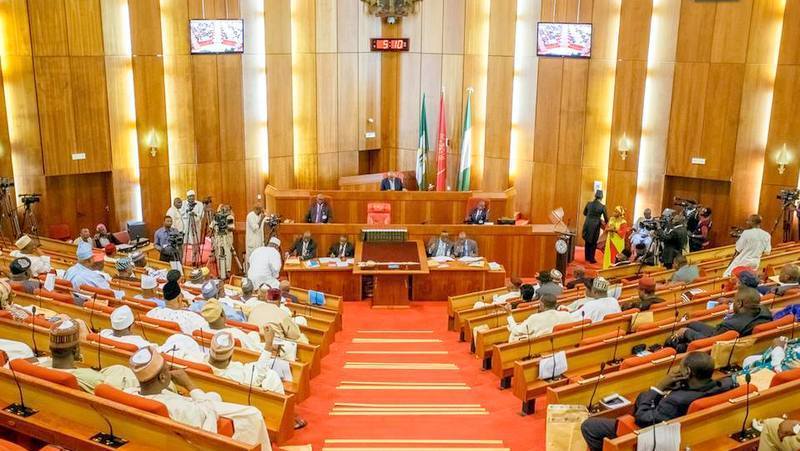 Yesterday we published a story on the list of 10 Senators who have spent a year without presenting a single bill that will bring national development.
Senate President, Senator Ahmad Lawan and former Governor of Kano, Mallam Ibrahim Shekarau (APC, Kano), are among a list of 10 senators who have spent a year without a single resolution.
Section 4 of the 1999 Constitution as amended states that the responsibility of The National Assembly is "to make laws for the peace, order and good government of the Federation or any part thereof with respect to any matter included in the Exclusive Legislative List".
The first task of every member of parliament is to present a bill that is in line with the needs of the communities they represent and to monitor the conduct of affairs in the Ministries, Institutions and Government Agencies.
The new 9th Senate was sworn in on June 11, 2019, and since then, more than 450 bills have been proposed, according to a study by the Daily Trust.
On the contrary, there are a number of senators who have introduced bills in the Senate, some of which have already become part of the constitution.
Senator Yahaya Abdullahi of the All Progressives Congress (APC), representing Kebbi North, spent most of his time proposing more than 30 bills. The only reason for this is that every resolution passed by the House of Representatives follows.
Next in line is Senator Stella Oduah (PDP, Anambra), who introduced 29 resolutions.
The third is the Vice President of the Senate, Ovie Omo-Agege (APC, Delta) who has introduced 22 resolutions.
Most of Omo-Agege's previous resolutions were those seeking to amend the constitution while he was chairman of the constitutional review committee.
The other senators and the number of bills that have been tabled are as follows:
Sanata Ekwunife Lilian Uche (PDP, Anambra) – 17
Sanata Mohammed Sani Musa (APC, Niger) – 14
Sanata Ifeanyi Patrick Ubah (YPP, Anambra) – 13
Sanata Ali Ndume (APC Borno) – 12
Sanata Istifanus Dung Gyang (PDP, Plateau) – 11
Sanata Gershom Henry Bassey, (PDP, Cross River) – 11
Sanata Olamilekan Adeola (APC, Lagos) – 10
Sanata Buhari Abdulfatai (APC, Oyo) – 9
Sanata Opeyemi Bamidele (APC, Ekiti) – 9
Sanata Ike Ekweremadu (PDP, Enugu) – 9
Sanata Ibrahim Barau Jibrin (APC, Kano) – 8
Sanata Aliyu Sabi Abdullahi (APC, Niger) – 8
Sanata Betty Apiafi (PDP, Rivers) – 8
Sanata Uba Sani (APC, Kaduna) – 7
Sanata Ibikunle Amosun (APC, Ogun) – 7
Sanata Ibrahim Yahaya Oloriegbe (APC, Kwara) – 7
Sanata Kashim Shettima (APC, Borno) – 6
Sanata Bassey Albert Akpan (PDP, Akwa Ibom) – 6
Sanata Abba Patrick Moro (PDP, Benue) – 6
Sanata Muhammad Enagi Bima (APC, Niger) – 5
Sanata Abdullahi Adamu (APC, Nasarawa) – 5
Sanata Sadiq Suleiman Umar (APC, Kwara) – 5
Sanata Theodore Ahamefule Orji (PDP, Abia) – 5
Sanata Tolulope Akinremi Odebiyi (APC, Ogun) – 5
Sanata Joseph Obinna Ogba (PDP, Ebonyi) – 5
Sanata Matthew Urhoghide (PDP, Edo) – 4
Sanata Ayo Patrick Akinyelure (PDP, Ondo) – 4
Sanata Aduda Philip Tanimu (PDP, Abuja) – 4
Sanata Samuel Ominyi Egwu (PDP, Ebonyi) – 4
Sanata Biodun Olujimi (PDP, Ekiti) -4
Sanata Ezenwa Francis Onyewuchi (PDP, Imo) – 4
Sanata Aliyu Magatakarda Wamakko (APC, Sokoto) – 4
Sanata Teslim Kolawale Folarin (APC, Oyo) – 4
Sanata Barinada Barry Mpigi (PDP, Rivers) – 4
Sanata Abdullahi Gobir (APC, Sokoto) – 3
Sanata Robert Ajayi Boroffice (APC, Ondo) – 3
Sanata Ademola Kola Balogun (PDP, Oyo) – 3
Sanata Ahmad Babba-kaita (APC, Katsina) – 3
Sanata Aishatu Dahiru Ahmed (APC, Adamawa) – 3
Sanata Francis Fadahunsi (PDP, Osun) – 3
Sanata Hassan Mohammed Gusau (PDP, Zamfara) – 3
Sanata Rochas Okorocha (APC, Imo) – 3
Sanata Hezekiah Ayuba Dimka (APC, Plateau) – 3
Sanata Michael Ama Nnachi (PDP, Ebonyi) – 3
Sanata Olubunmi Ayodeji Adetunmbi (APC, Ekiti) – 3
Sanata Ramoni Olalekan Mustapha (APC, Ogun) – 3
Marigayiya Sanata Rose Okoji Oko (PDP, Cross River) – 3
Sanata Suswam Torwua Gabriel (PDP, Benue) – 3
Sanata Yusuf Abubakar Yusuf (APC, Taraba) – 3
Sanata Alhaji Ya'u Sahabi (PDP, Zamfara) – 3
Sanata Francis Alimikhena (APC, Edo) – 3
Sanata Adelere Adeyemi Oriolowo (APC, Osun) – 3
Sanata Surajudeen Ajibola Basiru (APC, Osun) – 3
Sanata Amos Bulus Kilawangs (APC, Gombe) – 2
Sanata Clifford Ordia (PDP, Edo) – 2
Sanata Ibrahim Hadejia (APC, Jigawa) – 2
Sanata Abubakar Kyari (APC, Borno) – 2
Marigayi Sanata Benjamin Uwajumogu (APC, Imo) – 2
Sanata Chukwuka Utazi (PDP, Enugu) – 2
Sanata Danjuma Goje (APC, Gombe) – 2
Sanata Degi-eremienyo Wangagra (APC, Bayelsa) – 2
Sanata Emmanuel Bwacha (PDP, Taraba) – 2
Sanata Enyinnaya Abaribe (PDP, Abia) – 2
Sanata Ibrahim Gaidam (APC, Yobe) – 2
Sanata Jibrin Isah (APC, Kogi) – 2
Santa Kabiru Ibrahim Gaya (APC, Kano) – 2
Sanata Adamu Aliero (APC, Yobe) – 2
Sanata Oluremi Tinubu (APC, Lagos) – 2
Sanata Suleiman Abdu Kwari (APC, Kaduna) – 2
Sanata Binos Dauda Yaroe (PDP, Adamawa) -2
Sanata Halliru Dauda Jika (APC, Bauchi) – 2
Sanata Sabo Mohammed (APC, Jigawa) – 2
Sanata Smart Adeyemi (APC, Kogi) – 2
Sanata Ibrahim Abdullahi Danbaba (PDP, Sokoto)
Sanata Ishaku Elisha cliff Abbo (PDP, Adamawa) – 1
Sanata Akon Etim Eyakenyi (PDP, Akwa Ibom) – 1
Sanata Ashiru Oyelola Yisa (APC, Kwara) – 1
Sanata Bala Ibn Na'allah (APC, Kebbi) – 1
Sanata Bello Mandiya (APC, Katsina) – 1
Sanata Chimaroke Nnamani (PDP, Enugu) – 1
Sanata Danjuma Tella La'ah (PDP, Kaduna) – 1
Sanata Danladi Abdullahi Sankara (APC, Jigawa) – 1
Sanata George Thompson Sekibo (PDP, Rivers) – 1
Sanata Ibrahim Mohammed Bomai (APC, Yobe) – 1
Sanata Lawal Yahaya Gumau (APC, Bauchi) – 1
Sanata Orji Uzor Kalu (APC, Abia) – 1
Sanata Oseni Yakubu (APC Kogi) – 1
Sanata Sandy Ojang Onor (PDP, Cross River) – 1
Sanata Shuaibu Isa Lau (PDP, Taraba) – 1
Sanata James Ebiowou Manager (PDP, Delta) – 1
Sanata Saidu Ahmed Alkali (APC, Gombe) – 1
Sanata Umaru Tanko Almakura (APC, Nasarawa) – 1