AMCON Allegedly Takes Over Toke Makinwa's Banana Island Mansion, Nigerians React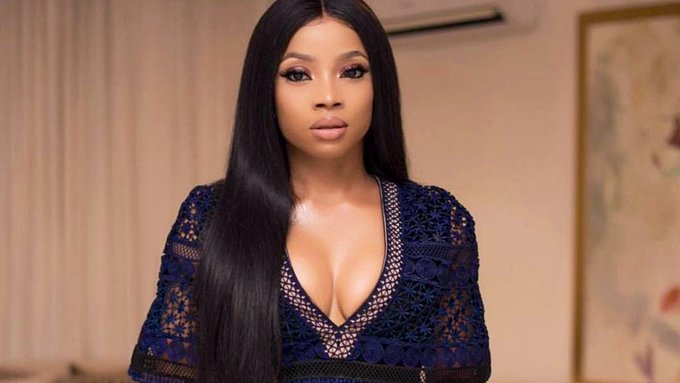 Toke Makinwa's Banana Island mansion has reportedly been taken over by the Asset Management Corporation of Nigeria (AMCON).
It is understood that the house, located in the exclusive Banana Island of Lagos State was taken over by AMCON over the inability of the owner to service some debts.
Some reports also have it that the house was given to Makinwa by Lagos-based oil and gas businessman, Dr. Festus Fadeyi, whose total indebtedness to AMCON is over N240 billion.
Naija News reports that Toke Makinwa is a popular media personality in Nigeria.
Since the news broke out, many Nigerians have taken to Twitter to express their views on the development. Many of those dropping comments on social media believe Toke Makinwa lied to them and lived a fake life.
See some of their reactions below:
Toke Makinwa: "Hardwork gave me all I have today"

If na by handwork i for dey Canada. I for no dey site dey hustle 2k

She broke shamed men. Now they've collected the house a married man gave her in Banana Island. 08056684225 Toke call this no, they have cheap selfcon in Ikorodu

— Chlorpheniramine ?? (@VictorIsrael_) July 27, 2020
After AMCON repossesses the house bought for Toke Makinwa by her BIG god.

Journalist: Is this true Toke
Toke Makinwa: ??? pic.twitter.com/R7TOzlo176

— Vanessa (@NESSAOFABJ) July 27, 2020
Toke Makinwa, "A woman should be independent and have her own things".

Oga Festus Fadeyi: I'll send you some money for upkeep, it's 200M okay?

Frustrated Nigerian Girls: Time Makinwa is my ROAD Model ooo.

Una remember how Linda take fell pregnant that year ???

— ?????????? ?????????Ⓜ ??‍? ✈ (@AimThaMachine_) July 27, 2020
So even toke makinwa is a small girl big god. Wonders shall never end. pic.twitter.com/Ntvpl5agWl

— PUTIN OF LAGOS?? (@Patternic) July 27, 2020
What does Toke Makinwa do for a living? Let's match her occupation to her supposed assets !

We need to know these things ☺️

— Jake Corleone (@Hitee_) July 27, 2020
Toke Makinwa moving down to Ikorodu to keep the title of Ikorodu Kylie jenner ? pic.twitter.com/pPuUMFZM7o

— King_Holuu?? (@mhiz_midee) July 27, 2020
AMCON took over Toke Makinwa's 'house'? Baby girl should have put her name on the property yo?

— Gift ? (@Giftama_) July 27, 2020
AMCON to Toke Makinwapic.twitter.com/lMEBLql4F7

— Premier (@SodiqTade) July 27, 2020
If you actually believed Toke Makinwa bought a house in Banana Island, the joke really is on you. Do you know how much houses there cost? What business did she do to be able to afford it? When you ask these questions, you're termed a hater. No wahala

— ChrisBest Oguguo (@chrisboguguo) July 27, 2020
If you ask Toke makinwa the source of her lifestyle, she will say its hardwork….lol… If nah so the hard work take dey pay, all of us for don buy house for Lekki nah ?

— OMOTAYO Of Lagos ?? (@Tee_Classiquem1) July 27, 2020
Toke Makinwa when AMCON is asking her if she has any relatives or friends she can move in with ?‍♂️?‍♂️?‍♂️ pic.twitter.com/sXFjSZMcec

— olawale olaojo (@walay_YB) July 27, 2020
Toke makinwa checking her phone to confirm the news be like: pic.twitter.com/3bFvaWqJbp

— ??? shade (@TheShade9_0) July 27, 2020</blo

See how people are happy at this girl small setback if that's even one or even true na wa o !! Toke makinwa jeun lo jare !

— BOY WONDER #TheBILLIONAIRE (@IamSammyDavids) July 27, 2020


ckquote>

You say wetin….Daddy bought House for Toke Makinwa on Credit and now AMCON don collect am lol..

That one is 'Bitter Daddy' not Sugar Daddy…He is the lowest of of Low lol

These basic bitches are always the first to shout hardworking & "Sucessfool" ..we be knew! pic.twitter.com/5V58raIo66

— Joy Tammy (@JoyTammy) July 27, 2020

This is the part where all these Twitter feminists rally around Toke Makinwa to help buy her another house in Banana Island. Amen??

— Omoniyi Israel (@__Omoissy) July 27, 2020