Bullion Van: Angry Nigerians Storm Abuja Street, Demand Bola Tinubu's Arrest (Photos)
Some angry Nigerians have taken to the streets in Abuja to protest over two bullion vans spotted in Bola Tinubu's residence in Lagos, Nigeria's commercial city.
Naija News recalls that an image of two bullion vans heading into Tinubu's Bourdillon residence surfaced online prior to the 2019 general elections. Tinubu's Bourdillon residence is in Ikoyi, Lagos state.
Reacting to the development at the time, Tinubu, who is the National Chairman of the All Progressives Congress (APC), Nigeria's ruling party,  had said he was neither a government contractor nor a worker with any government parastatal and that there was no iota of truth in the allegation that he had bullion vans in his house distributing money.
Tinubu had said: "I am not a government contractor, and I don't have bullion vans because I don't store ballot papers. If I may ask, where am I voting now? This is not my house. I don't work with any government agencies and let anybody come out to say that I have taken contracts from the government of President Buhari in the last four years.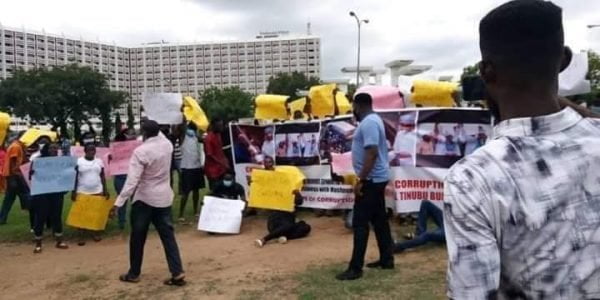 "They should prove it. I am on my own and committed to my party. Even if I have the money to spend in my premises, what is anybody's headache since I don't run the government. I can spend my money as I like and if I want; if it pleases me I can give it to the people free of charge as long as it is not meant to buy votes.
"I want to ask, who are those watching my house to see what I am doing? They must be mischievous, they are liars," NAN quoted him as saying.
However, a year and some months after the incident, Nigerians have taken to the street to protest, demanding the arrest of the APC National Leader.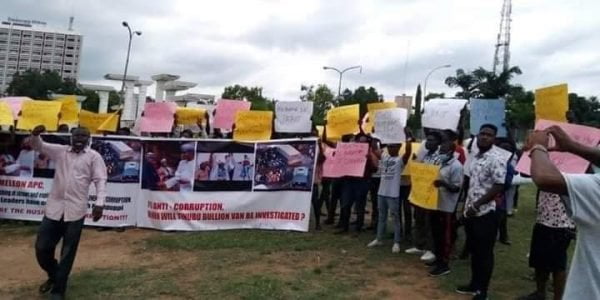 The protesters can be seen with different Banners and Papers with inscriptions: "Corruption, we demand Tinubu Bullion Van Investigated", "Anti-corruption, when will Tinubu bullion van be investigated?" amongst others.