Six Suspected Ritualists Arrested In Lagos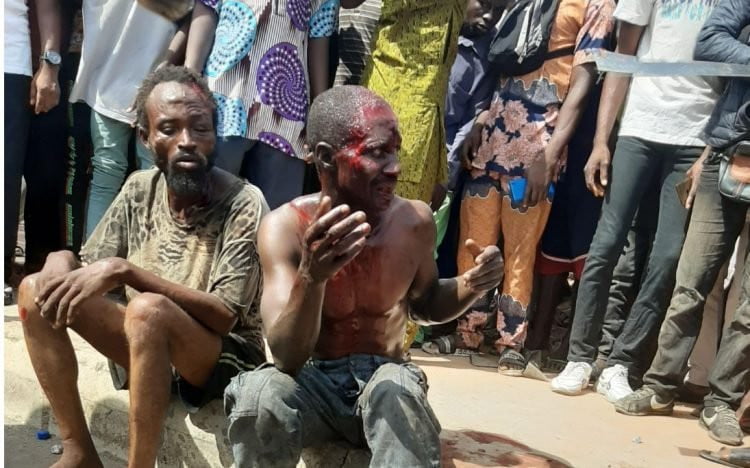 There was huge tension in Shogunle and Ladipo area of Agege Motor Road in Lagos state as six suspected ritualists were arrested
According to reports, the suspected ritualists who specialize in abducting passersby along the road, were apprehended after a failed attempt to abduct a street sweeper.
The cry for help from the street sweeper attracted residents of the area and area boys who came to her rescue. One of the suspected ritualists on sighting them attempted to flee but was given a hot chase by the area boys and was apprehended.
An eyewitness, Benson Oyibo, said: "I was going to work because I work in a hospital when I saw a woman shouting for help. The woman is a street sweeper. I joined some sympathizers who ran towards the woman. She was panting and gasping for breath, we calmed her down and asked her to explain to us what happened to her. She told us that as she was going to work, a man approached her and pretended to be asking her questions while another man started dragging her towards the tunnel, but she managed to escape.
"We tried to enter the canal, but we were discouraged because we don't know whether they were armed and how formidable they are. We called a patrol vehicle, but the policemen said they were on special duty. We raced to Oshodi where we saw some soldiers who entered the tunnel and brought our two suspects. Four other persons were picked, but after explanation, they were not connected to the tunnel. The soldiers recovered many things in the tunnel, showing that the ritualists have been in the tunnel for a long time."
Five other suspected ritualists were apprehended and brought out. The timely intervention of the police prevented them from being lynched.
Source: Naija News