Biafra: IPOB's Nnamdi Kanu Makes New Vow After Parents' Burial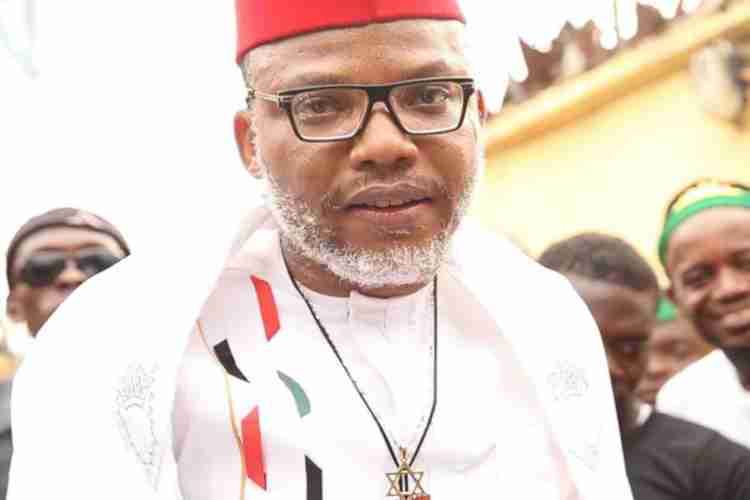 The leader of the Indigenous People of Biafra (IPOB), Nnamdi Kanu, has vowed up his agitation game, adding that with his parents now out of the way, the struggle for the actualisation of Biafra will know no bounds.
This online news platform had reported earlier that the parents of the IPOB leader, late HRH Eze Israel Okwu Kanu and his wife late Ugoeze Sally Nmeme Okwu-Kanu were buried on Valentine's day, Friday, February 14, 2020.
Naija News reports that ahead of the burial ceremony, Kanu threatened to kill the children of the Chief of Army Staff, Tukur Buratai and that of the Commissioner of Police in Abia State,  Ene Okon, if any IPOB member is injured or killed during the burial ceremony of his parents.
This online news platform recalls that before Kanu disappeared from Nigeria sometime in September 2017, he was being prosecuted on charges bordering on treasonable felony instituted against him as a response to his agitation on the IPOB platform for the secession of an independent Republic of Biafra from Nigeria.
The IPOB leader disappeared from Nigeria following soldiers' invasion of his home in Afara-Ukwu, near Umuahia, Abia State, in September 2017. Kanu, a dual citizen of Nigeria and Britain, is believed to be currently residing in the United Kingdom.
Ahead of his parents' burial ceremony, Kanu had vowed to return to Nigeria, where he said he would kill the children of Buratai and thereafter submit himself for arrest if any member of his group is injured or killed on February 14 during the burial ceremony in his father's compound but the IPOB leader failed to attend the burial over what many described as the fear of been rearrested by the Nigerian authorities.
After the burial ceremony, Kanu addressed members of the proscribed group on Friday night, saying that IPOB is the only movement that marches and the foundations of hell tremble, adding that even Satan is afraid of the group which was proscribed by the Federal Government led by President Muhammadu Buhari.
"The best of the very best, The chosen children of the Most High. The hardest core of them all The most unique and formidable assembly of men, women and children on this earth," Kanu said when about IPOB after the burial ceremony of his parents.

Kanu continued: "The only movement that march and the foundations of hell tremble; even Satan is afraid of IPOB "With my parents out of the way, very soon we shall march and the Sun will not set on that glorious day until the vandals are vanquished and the tricolour of the rising sun raised never to be lowered again." he said.