Biafra: Nnamdi Kanu To Submit Self For Arrest On Parents' Burial Day, See Why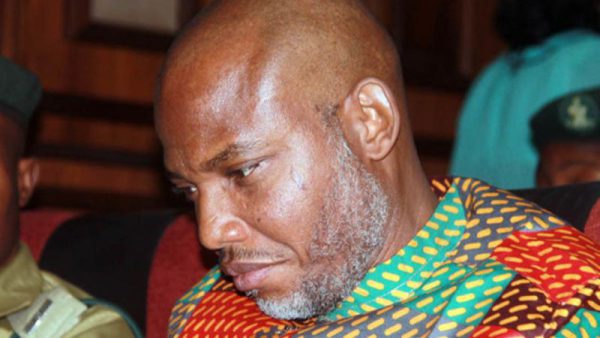 The leader of the Indigenous People of Biafra (IPOB), Nnamdi Kanu, has expressed readiness to submit himself for arrest in Nigeria if any member of his group is killed on the day of his parents' burial.
This online news platform had reported earlier that the parents of the IPOB leader, late HRH Eze Israel Okwu Kanu and his wife late Ugoeze Sally Nmeme Okwu-Kanu will be buried on Valentine's day, Friday, February 14, 2020.
Naija News reports that ahead of the burial ceremony, the governor of Abia State, southeast Nigeria, Okezie Ikpeazu, has directed the state ministry of works to ensure the immediate reconstruction of Eze I. O. Kanu road in Afaraukwu Ibeku, Umuahia North Local Government Area (LGA).
Speaking on Radio Biafra during a live broadcast, Kanu threatened to kill the children of the Chief of Army Staff, Tukur Buratai and that of the Commissioner of Police in Abia State,  Ene Okon, if any IPOB member is injured or killed during the burial ceremony of his parents.
Naija News recalls that before Kanu disappeared from Nigeria sometime in September 2017, he was being prosecuted on charges bordering on treasonable felony instituted against him as a response to his agitation on the IPOB platform for the secession of an independent Republic of Biafra from Nigeria.
The IPOB leader disappeared from Nigeria following soldiers' invasion of his home in Afara-Ukwu, near Umuahia, Abia State, in September 2017. Kanu, a dual citizen of Nigeria and Britain, is believed to be currently residing in the United Kingdom.
Ahead of his parents' burial ceremony, Kanu has vowed to return to Nigeria, where he said he would kill the children of Buratai and thereafter submit himself for arrest if any member of his group is injured or killed on February 14 during the burial ceremony in his father's compound.
His words: "We have fixed cameras everywhere. I need evidence to show to the world when they (Nigerian Army) come to my father's compound to kill on the day of the funeral.
"CCTV cameras are everywhere in my father's compound, the zoo Army don't know we will be watching all their activities on that day. I am warning them, if any IPOB member is killed, we will retaliate. I will kill all their children and submit myself for arrest.
"If anything happens to any IPOB member on the 14th of February all your children will be killed. If they kill anybody in my father on the 14th of February all the children of the Army commanders will be killed.
"Commissioner Okon, I am saying this, put it on record if anybody dies in my father's compound, all your children will be killed. All of you including Buratai, all your children will be killed. Every police commissioner, commanders, give me the addresses, I am giving you an order, get me their names. I will kill them if they kill anybody in my home town on the 14th of February, leave us alone, we are not armed.
"If you come to my parents' funeral and shoot, we will kill all your children, if you like go and hide them in Saudi Arabia, we will find them and kill all your children. You will know what it means to buy a casket, your names will be wiped out. I will submit myself for arrest after we kill them," the IPOB leader warned.