Army, Air Force Kill Scores of Boko Haram Terrorists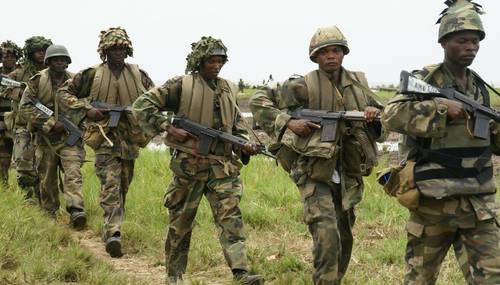 A combined effort of the Nigerian Army and Nigerian Air Force have successfully stopped a fresh Boko Haram attack on Askira LGA in Borno State.
Naija News gathered that scores of Boko Haram terrorists were killed following bombardment by fighter jets.
The terrorists were met with stronger resistance after they stormed the military base and community with 13-gun truck.
An eyewitness told DailyPost that the insurgents were subsequently subdued and annihilated when fighter jet arrived.
A soldier also confirmed the attack, saying "they have finished them."
"We have finished the bastards. But I cannot tell you everything now. The air support is in pursuit of those who are on the run. Let's talk again tomorrow," he said.
Residents disclosed that the terrorists were always coming to Askira for food items.
They also said the insurgents kidnap young boys for recruitment into the sect militia group.
"There is a river around Kuburshosho village that divide Askira side and Sambisa Forest, sometimes they use to come from that side to attack as there is no security operatives from that area," one of the residents told DailyPost.