UK-Africa Summit: Buhari Seeks Extradition Of Corrupt Public Officers From UK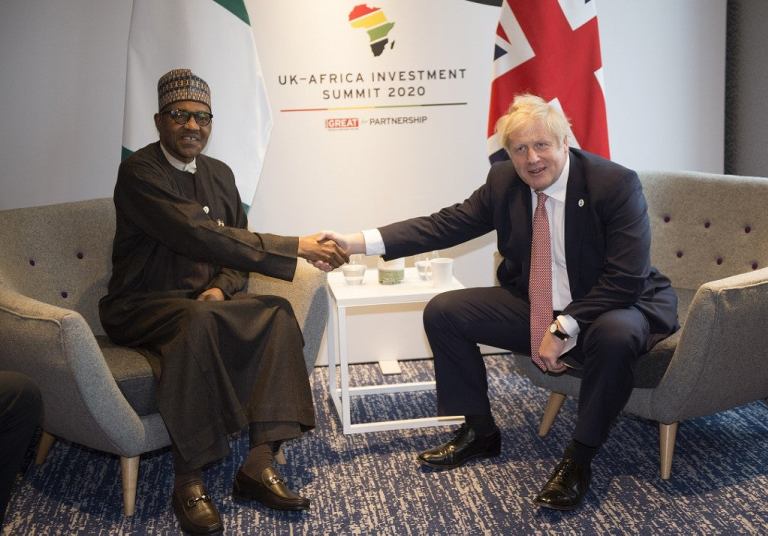 President Muhammadu Buhari has requested the United Kingdom to assist in the investigation of Nigerian corrupt public officers who have fled to the United Kingdom in order to avoid facing corruption allegations pending against them.
President Buhari who made this request during a bilateral meeting on Monday with the British Prime Minister Boris Johnson, at the sidelines of the UK-Africa Investment Summit 2020 holding in London said It has been largely speculated that Nigerian fugitives are fond of fleeing Nigeria to the United Kingdom for solace and to conceal their loot.
Adesina quoting Buhari in the statement said;
"On the anti-corruption war, the President said though it was slow but painstaking, the cooperation of the National Crime Agency of UK was still needed, particularly in the investigation of fugitives from Nigeria finding accommodation in the United Kingdom."
He also disclosed that President Buhari relayed to the Prime Minister, the progress which his administration has made in various sectors in Nigeria which also included Agricultural development that has resulted in self-sufficiency in rice production and consumption and other grains.
Speaking on the war against insurgency, President Buhari mentions that progress has been recorded in "the disabuse of the minds of the people on the true philosophy of Boko Haram." However, challenges still persist in the area of resettling internally displaced persons by Boko Haram.
However, Boris Johnson, In his remarks, Johnson thanked Buhari for being "a regional leader who gives strong encouragement to the West".
He, therefore, pledged to cooperate with Nigeria and other African countries in the inter-basin water transfer, which could solve the Lake Chad problem, and enhance security in the sub-region.
O