Ngige Affirms Safety Of N336bn Budgeted For 2nd Niger Bridge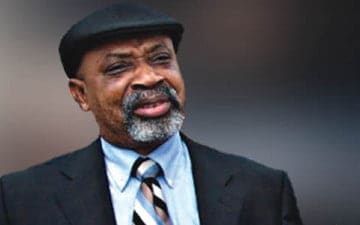 Responding to an interview with a correspondent of The PUNCH on Thursday 7 January, The Minister of Labour and Employment, Dr Chris Ngige, has guaranteed that the money budgeted for construction of 2nd Niger Bridge is safe.
The Minister who recently gives condition for Igbo Presidency in 2023, stated that money has been set aside by the Federal Government to complete the 2nd Niger bridge project.
Ngige while still speaking with newsmen in Awka, Anambra state capital, noted that some of the roads that are labelled as federal roads are not actually true, even though he believes that all federal roads in the country should be attended to.
He, therefore, advised that state governments should fix roads that belongs to the state while they work on the Federal roads which are their only target.
He said:
"I'm one of those who believe that the federal roads in the whole of Nigeria should be tolled. As a matter of fact, a lot of roads they call federal roads, I don't believe they are federal roads."
"The 2nd Niger Bridge is ongoing. The contractor has made an undertaking on his own to deliver the project before the appointed date of 2022 and handover. We believe them because they're working day and night. Apart from the little hiccups occasioned by demands for compensation, they're on schedule. The job is on 45% completion and the fund for the construction is intact." Ngige said.
"That is the good news for the people of the South East. The cost of the bridge from exit route of Delta and South- East , South-South is about N336bn, and the money is available unlike the Obasanjo/Jonathan arrangements when they were trying to look for PPP. Now, we're building the bridge as one of the five flagship projects of the Federal Government, which are- Lagos/Ibadan, East-West Road, 2nd Niger Bridge, Abuja-Kaduna-Kano, and Mabilla. Work has started in all these because money is guaranteed. The 2nd Niger Bridge which concerns me and you and people of South-South, South-West and North-Central is on course. It's a very strategic bridge that links both North, South East, South South, South-West."
He added that; "It's very cheering news because, during the time of PPP, I opposed it in the Senate and I had a very serious altercation at the South-East caucus meeting with the then deputy senate president, Ekweremadu, the Ministry of Finance and then SGF Anyim Pius. I blasted them that they've not treated us well. Whereas, others were getting bridges that are toll-free these people are giving us toll bridge."
"The 2nd Niger Bridge is toll-free for now. When are going to toll, we'll toll all the federal roads and bridges altogether. So it's not a question of tolling the bridge to recoup our money."
"The federal roads are the ones we call trunk A roads that leadd to state capitals. The state government should face other roads in their domain and build them like we did when I was the governor working in Anambra."
Source: Naija News