Pope Francis 'Slaps' Woman During New Year Eve Service, See Why (Video)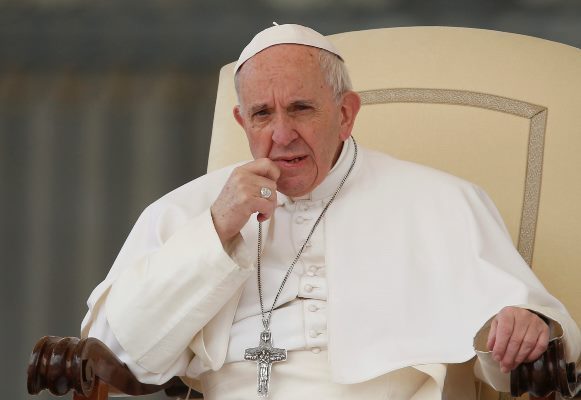 Pope Reacts Angrily After Woman Grabbed His Hand
The social media space went into a frenzy after videos emerged of Pope Francis slapping a woman's hand to free himself from her unexpected grip.
The Pope was greeting children before the Nativity scene at the Saint Peter's Square on Tuesday night when a female worshipper from the crowd grabbed his hand and almost caused him to fall.
The 83-year-old head of the Catholic church had to slap the woman's hand twice before he could free himself.
The action obviously unsettled the Pope who had to maintain a slightly greater distance from visitors as he continued his tour before he gradually relaxed again as he came into contact with other children.
Watch the video below:
VIDEO: A visibly upset Pope Francis pulls himself away after woman yanks at his arm pic.twitter.com/Mo5o70QAfu

— LIVE Breaking News (@NewsBreaking) January 1, 2020
Source: Naija News