Live Updates: 2019 Kogi State Governorship Election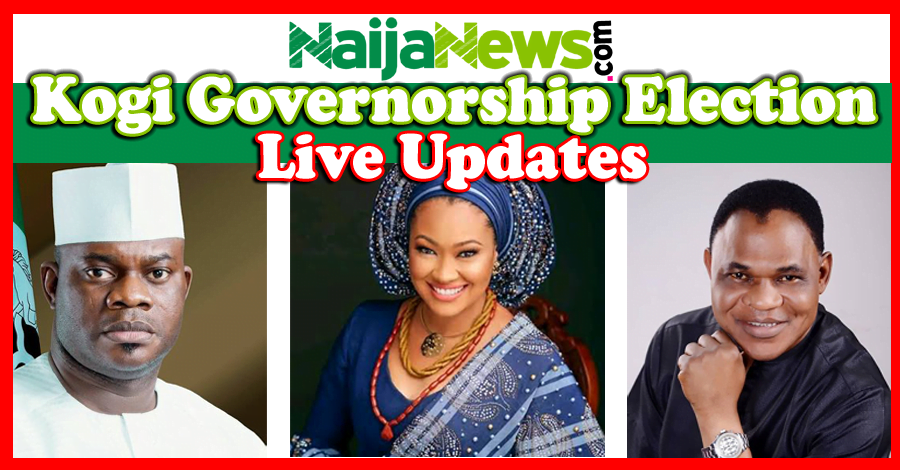 All is now set for the conduct of the governorship election in Kogi State by the Independent National Electoral Commission (INEC).
The people of Kogi state are ready to decide who occupies the Lugard house to lead the people of the state for the next four years.
The governorship election in the state which is holding today, Saturday, 16th November will be keenly contested by a total of 24 candidates.
The registered voters in the state are 1,646,350, about 1,485,828 (90.2%) have collected their PVCs and are thus ready to vote in the 21 local governments of the state.
The candidates and their parties include; incumbent Yahaya Bello of the APC, Natasha Akpoti of the Social Democratic Party (SDP), Engr. Abdulmalik Adama of Hope Democratic Party (HDP), Sheik Jibril of All Progressives Grand Alliance (APGA) and Engr. Emmanuel Olorunmowaju Orugun of Abundant Nigeria Renewal Party (ANRP).
Others are Mohammed Abdullahi of Accord Party (AP), Abdulrazzaq Baba Emeje of United Democratic Party, (UDP), Engr. Musa Wada of the People Democratic Party (PDP) and Muhammed Zakari of Young Democratic Party (YDP).
Also contesting the race is Musa Leslie Lasisi of the National Action Council (NAC), while Jimoh Ahmodu contests on the platform of the Mass Action Joint Alliance (MAJA).
Naija News will be on ground to give you latest information. Keep refreshing the page to get latest updates.
---
Kindly join our result live update page using this link.
2:10 PM: INEC staff beaten, abandon ballot boxes at PU 001, Asuta ward, Kabba/Bunu, where voting ended before 11am but counting is yet to commence as at 2pm.
2:00 PM: Voting is expected to officially end by 2pm across the various polling units after which electoral officials will begin sorting counting and counting of the votes.
1:10 PM: Voting has ended at Okunchi/Ozuri ward, PU 004, Adavi LG, with electoral officials waiting to sort and count the votes by 2pm.
1:00 PM: Gunshots, ballot snatching at Ward 002, Iluofa.
VIDEO: Gunshots, ballot snatching at Ward 002, Iluofa in Kogi#BayelsaDecides2019 #KogiDecides2019 #CDDAnalysisCentre pic.twitter.com/6P36NqfGka

— TheCable (@thecableng) November 16, 2019
12:47 PM: There has been a reported case of thugs who stole ballot boxes in Lokoja club polling unit 16 Ward A. The polling unit is very close to the government house
12:00 PM: INEC Distributes 2015 Ballot Papers, Not 2019 in Dekina LGA. The situation has been reported to INEC. See the details here.
11:31 AM: Fake policeman arrested in Dekina local government. He has since been arrested by actual SARS officers. Read the details here.
11: 24 AM: Natasha Akpoti, the governorship candidate of the Social Democratic Party (SDP) in the 2019 Kogi governorship election has just cast her vote at the PU 019, ward 01 Obeiba/Ihima, Okehi LGA of the state.
10:45 AM: Smart Adeyemi, the APC Kogi west senatorial candidate, joins the queue to cast his vote at PU 002, Iyara ward, Ijumu LGA.
10.10 AM: Thugs snatch ballot boxes in Ofu local government area.
Time: 10:01am
State: Kogi
LGA: Ofu
Ward: Ochadamu
PUs: 008, 009, 010 and 018
Reports: Thugs have taken away the ballot boxes. This report escalated to the Police.#KogiSR2019 #KogiDecides2019

— Situation Room (@SituationRoomNg) November 16, 2019
9:50 AM: Fake civil defense officers arrested in Dekina Local Government Area.
This was disclosed by the Deputy Director, Public Communications of the Kogi State Peoples Democratic Party Campaign Council, Usman Austin who added that the suspects have been handed over to the police.
9:47 AM: Thugs beat up SDP agent.
An agent of the Social Democratic Party (SDP), Lawal Abdulaziz, was reportedly beaten up by thugs who disrupted voting at ward 1, Obeiba/Ihima in Okehi local government area of Kogi state.
Security operatives have however put the situation under control and voting is now in progress.
9:30 AM: Senator Dino Melaye has just cast his vote in PU 004, Ayetoro Gbede 1, Ijumu LGA.
9:20 AM: Musa Wada, candidate of the PDP set to cast his vote.
8:55 AM: Governor Yahaya Bello, candidate of the APC has just cast his vote. He cast his vote at Agaza/Ahachi Okene ward 07 polling unit 11.
8:50 AM: Voting has kicked off in many polling units. Everything has been peaceful so far and card readers are functioning in all polling units so far visited.
8:10 AM: Reports from PU 21, Ward 07, Aboho, Okehi local government has it that voters are already on queue but are lamenting how late the officials started working.
7:00 AM: Elections are expected to kick off at 8am across various polling units in the state. As at some minutes after 7am, some polling units already have their materials ready and security operatives are also on ground.
Source: Naija News