Nigerians React As Buhari Allegedly Prepares To Replace His Wife, Aisha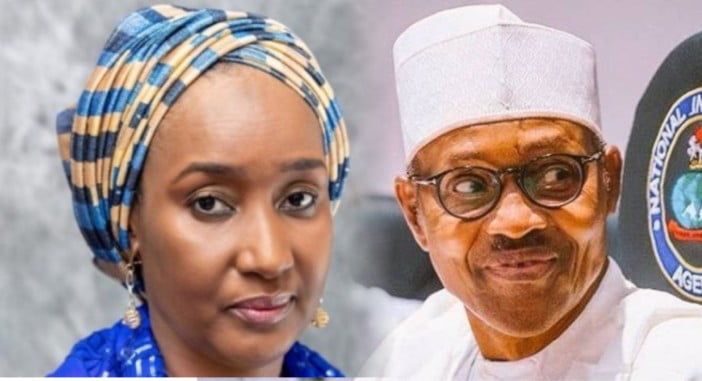 Naija News reported earlier that rumours has it that President Muhammadu Buhari is set to marry a second wife, the current minister of Humanitarian Affairs, Sadiya Umar Faruq.
The rumours on social media have it that the wedding is set to hold on Friday, 11th of October in a very quiet ceremony.
Meanwhile, Nigerians have taken to Twitter to react to the news.
Buhari is marrying a second wife Hajia sadiya Umar Faruq Current minister of Humanitarian affairs.
It seems like a Rumor but i also read an article about it. pic.twitter.com/MdWFfIfYMF

— Adam Mó (@adamm_mo) October 9, 2019
JUBRIL AKA LATE BUHARI REPORTEDLY GETTING MARRIED ON FRIDAY BUT MY QUESTION IS THIS, WHAT WILL LATE BUHARI'S WIFE DO FOR NOW.
LATE BUHARI'S WIFE SHOULD FIND A WAY TO IMPEACH THAT MAN JUBRIL BEFORE HE TAKE HER OUT AND CLAIMS EVERYTHING LATE BUHARI HAS. pic.twitter.com/W7Cyc73SMO

— Gadgodwin031 (@031Gad) October 9, 2019
Multiple sources indicate President Buhari will tie the knot with Haija Sadia Umar Farouq, the current Minister for Humanitarian Affairs and Disaster Management in the coming days, which has aroused suspicions over the continued absence of current first lady Aisha Buhari… pic.twitter.com/Zn6qyGI7Im

— Freetechspot (@Freetechspotng) October 10, 2019
Where is AISHA BUHARI? #WednesdayThoughts pic.twitter.com/YSauEtHbl8

— IbadanHowFar ?? #BrownRoofCity #BamsJnr. (@IbadanHowFar) October 9, 2019
Our incoming first lady.. Aisha Buhari can go and take the back seat. ????? pic.twitter.com/QB1ViFHEK7

— Emma ik Umeh (Tcee )???? (@emmaikumeh) October 10, 2019
We said this Buhari is fake some FOOLS said it was a lie…Aisha doesn't live in the villa no more…una dey lie.
Now they have brought his real wife.
Believe it or not…too many things is destroying Nigeria.
Most of our youths don't have sense.

— @IgedeBoy (@IgedeBoy2) October 10, 2019
Buhari is getting a second wife? We need a full movie on the drama,
-Nextlevel other room ?

— N a j i b (@RilwanNajib) October 10, 2019
No food, no light, bad roads and Buhari is planning to spend millions to marry another wife on Friday ? pic.twitter.com/2kabYVw6ih

— OMOTAYO Of Lagos ?? (@Tee_Classiquem1) October 10, 2019
Who do you prefer as #Buhari First Lady?

Like for Aisha ❤️

Retweet for Sadia ? pic.twitter.com/jFJzPPSMoo

— Nigga Daddy || Alagbo ? (@tunji96) October 10, 2019
Who fit me pass?

Retweet for Sadia ❤️

Like for Sadia ❤️

Wail for Aisha #SAMU2019 pic.twitter.com/7IWvfitHoP

— Parosident (@TheMbuhari) October 10, 2019
Our incoming first lady.. Aisha Buhari can go and take the back seat. ????? pic.twitter.com/QB1ViFHEK7

— Emma ik Umeh (Tcee )???? (@emmaikumeh) October 10, 2019
Question – Baba why are you getting married to another woman? We know you can but why? What did Aisha do?

Me – 4 pics, 1 word. #SAMU2019? pic.twitter.com/XIq9F2mzKZ

— Parosident (@TheMbuhari) October 10, 2019
We said this Buhari is fake some FOOLS said it was a lie…Aisha doesn't live in the villa no more…una dey lie.
Now they have brought his real wife.
Believe it or not…too many things is destroying Nigeria.
Most of our youths don't have sense.

— @IgedeBoy (@IgedeBoy2) October 10, 2019
The only first lady that Nigerians accept is Aisha Buhari. Any other so called proposed marriage as a second wife is a counterfeit. pic.twitter.com/flob0VmIkc

— lbrahim J. Manga (@seboam1) October 10, 2019
If Buhari marries a 2nd wife as it's said everywhere, I'll believe that the Buhari we see today is cloned and not real
Because Aisha has not been close to this Buhari since that rumour came up, his children also have not bn close unlike when him and his son were always together

— Roy Nsirim (@maestroroy) October 10, 2019
Rumuors has it that this is our Soon to be Unveiled First lady… Ah?‍♂️ this Buhari get eye for find women sha… I mean see Aisha na… come see this Babe??
How I wish e get the same for economic policies, Security, infrastructure etc for wee country pic.twitter.com/E9NZb2AloL

— FARMBW?Y? (@themangerajake) October 10, 2019
Rumour has it that he is getting married tomorrow. He might have secretly divorced Aisha.

Anyways, it is another strategy to engage people in conversations that distracts attention from bad governance/leadership.

He can marry 20 people at once if he desires.

— Onu (@sjonu) October 10, 2019
Aisha Buhari, the wife of General Buhari, has been out of Nigeria for about two months now, following pressures from President Mohammadu Buhari to take Hajia Sadia Umar Farouq, the current Minister for Humanitarian Affairs and Disaster Management, as the second wife pic.twitter.com/Ffua1EjWyN

— hot girl (@sarletlee) October 10, 2019
So Buhari has dumped Aisha and is set to marry Sedia
And you say this country is not a hilarious one pic.twitter.com/Ib55GgjeZB

— ASSmatic ? (@LiteBoi1) October 10, 2019
The Buhari's wife that's taking the place of Aisha next tomorrow (Friday).

The many wonders of APC are yet to be phantom.??? pic.twitter.com/xjDcyt3AgX

— Abdul_hameed_AA ???? (@AbdulhamidAAkh1) October 9, 2019