Biafra: Nnamdi Kanu Cries Out, Says 'Death Awaits All Biafrans'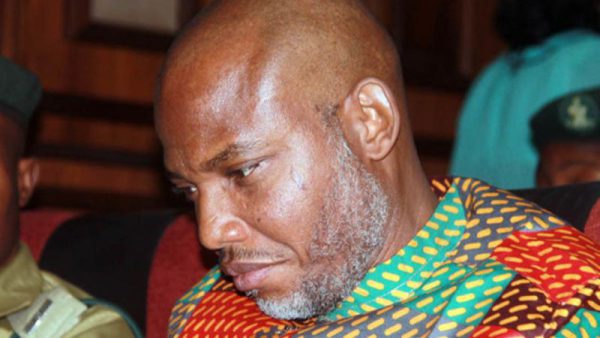 The leader of the outlawed Indigenous People of Biafra (IPOB), Nnamdi Kanu, has lamented that death awaits "all Biafrans" agitating for the Republic of Biafra if they don't rise up and fight for their rights.
Naija News reports that the IPOB leader made this comment during his second broadcast of the month on Radio Biafra on Monday, October 7.
During the broadcast, Kanu said death awaits all Biafrans except they rise up and fight President Muhammadu Buhari led government as well as the Nigerian security agents.
His words: "There is something I want all Biafrans to know including Ibibio, death awaits us all, except we rise up and fight these people (Nigeria and the Nigerian security agents)."
Meanwhile, Naija News reports that Kanu's statement is coming after he said last week during an "emergency broadcast" that the Republic of Biafra will come in his time.
"Here we (IPOB) remain whiter than whiter and whiter than snow, that is why we have been able to accomplish what many nations have not been able to accomplish.
"We do not take the praise, every praise and adoration for all we that we have become, for all that we have accomplished in this very noble quest to restore Biafra belongs to Chukwu Okike Abiama in heaven, it doesn't belong to man.
"Every praise redirects towards heaven and because of that because of that, Biafra shall come in our time," Kanu had said.
Source: Naija News