#SexForMarks: Nigerians Reacts As BBC Exposes Another Lecturer Demanding Sex For Mark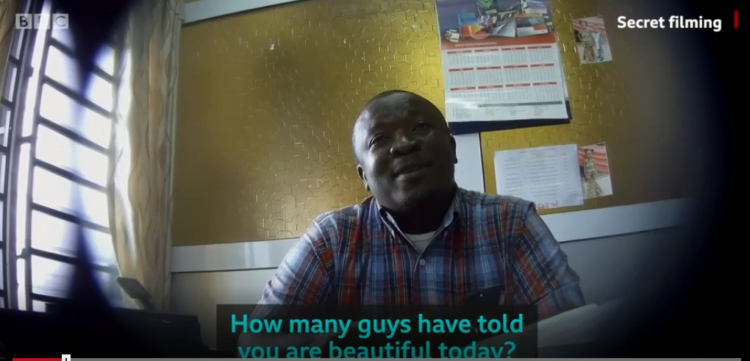 Naija News has earlier reported that a former Nigerian university lecturer, Boniface Igbeneghu, was caught on camera requesting sexual demands in exchange for admission into the University of Lagos.
The accused lecturer, Boniface Igbeneghu, was said to be a former sub-dean of the Faculty of Art and head pastor of a local Foursquare Gospel Church.
This is not the first time such incidence is happening.
Recall almost a year ago, a lecturer in Obafemi Awolowo University, Ife, Dr Richard Akindele was sacked, and subsequently sentenced to two years in jail; after a tape where he was demanding for sex for marks from a student was exposed.
Also, In Lagos State University (LASU), three academic staff were dismissed for sexual harassment and misconduct.
Meanwhile, Nigerians have taken to Twitter to react to the development.
See reactions below:
It's about time ????… I almost dropped out because of this . https://t.co/cslo2CcjRe

— SarahBloo.Arts ? (@Sarah_bloo) October 7, 2019
" if you disobey me I'll tell your mom you disobeyed me " this right here is the power teachers , lecturers have over most students … parents see teachers as gods and don't believe what their children say. Not all parents but most have influenced #sexforgrades

— IgboMade (@volqx) October 7, 2019
That Lady that posed as a student to burst the lecturer in the #Sexforgrades BBC documentary deserves an Oscar.She should be declared a National Treasure.The stories coming out of our ivory towers will break your hearts.God bless that lady & BBC for daring to take this on.

— Mazi (@matthewamad) October 7, 2019
Dr Boniface is a Senior Pastor of a church who saw nothing wrong in Harrasing 17 year old girls.

Most annoying part is that he prayed for the girl to give her life to Christ and went on to do his evil deeds.

And there are others just like him, others who request #SexForGrades

— AJ | Adonai (@mrmanhere_) October 7, 2019
" lock the door "
" switch off this light "
" and I'll kiss you for one minute "

Someone's daddy
A whole ass pastor
Someone even said this Dr Boniface was smooching her and writing scriptures #SexForGrades

— Pastor Ola ✨ (@Biisi96) October 7, 2019
If this had not been recorded, he would have denied all allegations, reported her to the parents, and made sure she failed all courses till she accept his proposal.

Some parents won't even believe what their children says ? #SexForGrades
pic.twitter.com/vgM8AU0JnV

— Samuel Bolu ??‍♂️ (@whalakid) October 7, 2019
it's extremely difficult to speak up against sexual harassment whilst being a student, EVERYTHING, for you, is at stake. #SexForGrades

— JJ (@juiciestofjays) October 7, 2019
The BBC documentary on #SexForGrades is going to shake everywhere! Get ready.

— JJ. Omojuwa (@Omojuwa) October 6, 2019
If you're in school and some lecturers are not around this morning just know they are on this table #SexForGrades

— RKB ? ?? (@hellomike01) October 7, 2019
Avoid those lecturers..BLOCKED.

Students tempt lecturers..BLOCKED

Don't air the docume..BLOCKED

It will tarnish their reputa..BLOCKED

Everyone knows exactly what #SexForGrades is all about & how terrible it is, attempting to twist it & bring in silly nuances is sheer foolery.

— Ugwunna Ejikem (@UgwunnaEjikem) October 7, 2019
Avoid those lecturers..BLOCKED.

Students tempt lecturers..BLOCKED

Don't air the docume..BLOCKED

It will tarnish their reputa..BLOCKED

Everyone knows exactly what #SexForGrades is all about & how terrible it is, attempting to twist it & bring in silly nuances is sheer foolery.

— Ugwunna Ejikem (@UgwunnaEjikem) October 7, 2019
Any lecturer exposed in the #SexForGrades documentary should be sacked, arrested and jailed.

— Oloye Akin Alabi (@akinalabi) October 7, 2019
Any lecturer exposed in the #SexForGrades documentary should be sacked, arrested and jailed.

— Oloye Akin Alabi (@akinalabi) October 7, 2019
So no Uniport lecturer was caught?? They are the worst in Nigeria…Girls who couldn't defeat them were used to stupor..
There's one my friend and I blackmailed and sent the voice note to the senate, he wasn't even dismissed. #sexforgrades

— ✨IYAWO THICKER BODY✨? (@IyawoThickaBody) October 7, 2019
Dr Boniface Igbeneghu.
Former Sub Dean, Faculty of Arts.
Unilag Senior lecturer.
Foursquare Pastor.
Serial abuser.

UNILAG and NUC must use this guy as an example to stop other lecturers from harassing women.

Sack him. #SexForGrades

— Ugonnia (@AustinYugo) October 7, 2019
Somebody's father
A pastor
A sub dean

Unilag here is your Dr Boniface #SexForGrades pic.twitter.com/jPx43VOAxJ

— Trouble Maker ?(G.O). (@ObongRoviel) October 7, 2019
To those who are quick to defend Pastors even when the truth is Glaring, Dr Boniface was a Senior Pastor boasting of Harrasing 17 year old girls. The nigga even prayed for the girl to give her life to Christ before kicking off his evil. #SexForGrades

— King Nonny ? (@Zaddy_nomso) October 7, 2019