Eddy Olafeso Accuses Akeredolu Of Plunging Ondo State Into Debt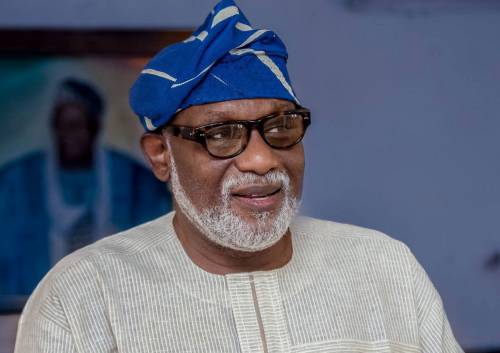 The National Vice Chairman (Southwest) of the Peoples Democratic Party, Eddy Olafeso, has accused the Governor of Ondo State, Rotimi Akeredolu, of plunging the state into alleged indebtedness.
Hence, the need to wrestle power from the Ondo State governor.
Olafeso made this claim at the party secretariat in Akure, the state capital, while declaring his intention to contest the party's ticket in the governorship election in the state next year.
The former Commissioner of Information, further stated that the Akeredolu administration has destroyed virtually all the legacies of past governors in the state.
"My mission is to put the party on notice that I will be running for the governorship election in 2020."
"The is no government in Ondo State here. This state is the state of Ajasin, it is the state of Adefarati, it the state of Agagu and Mimiko. We are now witnessing a situation where students are paying from primary school level to secondary school. The tertiary institutions are far beyond the ordinary man."
"I'm a product of Awolowo era. I won't have been educated if there is no social welfare program for the ordinary man on the street. They have abdicated their responsibility and they have stepped on the head of history."
"There is no way we will allow them to continue. They have destroyed everything we ever stood for. When Agagu left office, we had over N38 billion in our kitties as savings. When Dr. Mimiko left, he left a very vibrant maternal care health programme for the state. Urban renewal. Tell me what this man has done since he came apart from borrowing money. He has increased our debt to N150 billion. He has desecrated the entire system. He has to go."
The chairman of PDP in the state, Clement Faboyede, noted that 17 aspirants have shown interest in the party's ticket.
He assured them all that a level playing ground will be ensured during the primary where the standard-bearer will emerge.
Faboyede stated that the party flag bearer will defeat anyone that will present by the All Progressives Congress, APC.
"At this time of government of pressure and tyranny, we have decided to leave no stone unturned. By God's grace, Ondo State will rise again with PDP government."
"We have about 17 aspirants who have signified their intention to get the party's ticket. At the end of the day, we will present a candidate that is cultured and brilliant. That knows what it is to be in government. That knows what social democratic is."
"The incoming PDP government that will be sworn in by February 23, 2021, will be a government that respects social norms. It will govern based on empathy and the rule of law."`