5 Trillion Naira Debt: Buhari Signs New AMCON Law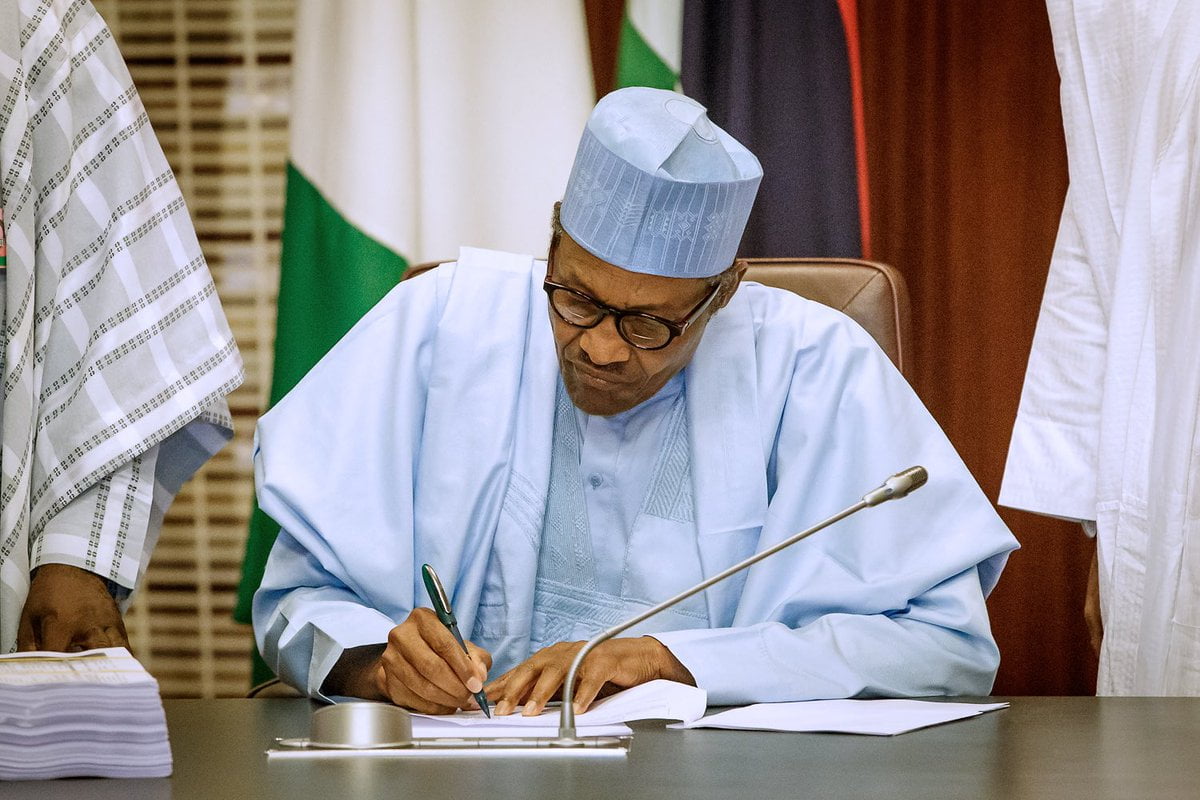 President Muhammadu Buhari has signed a new law that enables the Asset Management Corporation of Nigeria (AMCON) to monitor the bank accounts of its debtors under supervision.
Naija News learnt that President Muhammadu Buhari signed the amendment of the AMCON law on Wednesday, alongside the National Biosafety Management Agency (Amendment) Act and Defence Intelligence Agency Civilian Pensions Board (Establishment) Act, 2019.
According to a statement credited to the presidential aide on National Assembly, Senator Ita Enang, the new law gives AMCON (amendment) Act, 2019, empowers the corporation to access the financial details of any of its debtors.
He said the law mandates AMCON to:
"Obtain access to any computer system component, electronic or mechanical device of any debtor with a view to establishing the location of funds belonging to the debtor, and to obtain information in respect of any private account together with all bank financial and commercial records of any debtor of any eligible financial institution, banking secrecy, and the protection of customer confidentiality is not a ground for the denial of the power of the corporation under this section.''
"It makes it mandatory for AMCON to, despite the convention of confidentiality of banking, business and contracting relations to furnish the federal government, ministries, departments and agencies with a list of recalcitrant debtors and then impose an obligation to seek clearance on the federal government, ministries, departments and agencies when the federal government, any ministry, department or agency proposes to contract with, or pay, debtors on the list furnished by the corporation.''
Meanwhile, the Acting Chairman of the Economic and Financial Crimes Commission (EFCC), Ibrahim Magu, has vowed to assist AMCON to recover monies being owed by individuals and business entities in Nigeria. The acting spokesman of the EFCC, Tony Orilade in a statement credited to Magu on Wednesday said,
"We are ready to work with you, and we will render assistance in terms of enforcement, in order to recover these loans, because they are affecting the economy of the country from flourishing.
"In order to recover these loans, there is the need for inter-agency collaboration, going beyond the EFCC to the police, the court, Central Bank of Nigeria, NDIC, because there is a need for AMCON to re-strategize and block loopholes."
Download NAIJA NEWS app: