Why Some National Assembly Lawmakers May Not Get Their Severance Package – Babandede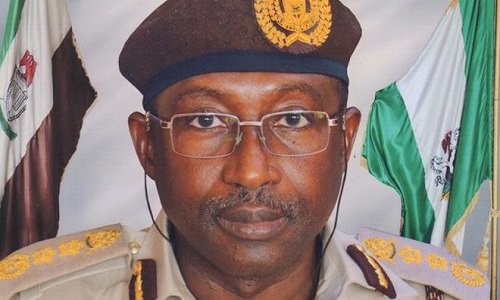 Immigration CG Speaks On New Passport Regime
The Comptroller-General of the Nigerian Immigration Service, Muhammad Babandede, has issued a strong warning to politicians who hold on to diplomatic passports after leaving office.
He specifically spoke on lawmakers in the National Assembly, adding that only former presidents and vice presidents were eligible to hold on to their diplomatic passports after leaving office.
Babandede made this clear in an interview with the Punch newspaper published on Monday, 14th April.
An extract from the interview reads:
"Since President Muhammadu Buhari came into office almost four years ago, he has not approved one official diplomatic passport for anybody. But when we came on board, we had a lot of unqualified persons who were in possession of diplomatic passports. We have said that any person who comes to our borders with a diplomatic passport, we would take it if you are not qualified to hold it."
"What we have done is to link the diplomatic passport with the standard and official passports. If you have a diplomatic or official passport and you are staying in Canada, for instance, because you were a honourable (National Assembly member), when your passport expires and you come to renew it, it will not be renewed. We have cases like that. One former lawmaker was staying in Canada or Ireland; his passport expired. When he went for re-issue, it was not renewed. You can run away from Nigeria after losing elections. But when you come to renew your standard passport, it would not be re-issued until you return the diplomatic passport. Those who have the right to have it after they retire are the President and Vice-President.
For the incoming National Assembly members, we have written to the Clerk (of National Assembly) that they should tie their benefits to the return of the diplomatic passport. Any member of the Senate or House of Representatives leaving office must return his or her diplomatic passport before getting his or her severance benefits. The Clerk has accepted the condition. If you don't care about your benefits because you are rich, you would care about your person and you cannot cross our borders."
The immigration boss also warned against using diplomatic passports for personal or unofficial journies adding that there are consequences for such actions.
"If the former members come for renewal of their passports now, we can't give them. We would advise them to hold on until the new administration is inaugurated. We know those who won elections. Some people want to take advantage to renew their passports and get diplomatic passports for five years; we are aware. We are keeping them at bay. Some of them have enough pages, enough (validity) period, but I assure you, if they understand the consequences, they would not travel with the diplomatic passport. We like to enlighten those with diplomatic passport not to use it for unofficial trips. Members of the National Assembly should not use the diplomatic passport if they are going to buy furniture in Italy because that is not an official trip; they should use their standard passport. But if you are going on oversight assignment, use the diplomatic passport."
Source: Naija News