Finally, Nnamdi Kanu To Drop Agitation For Biafra, See Why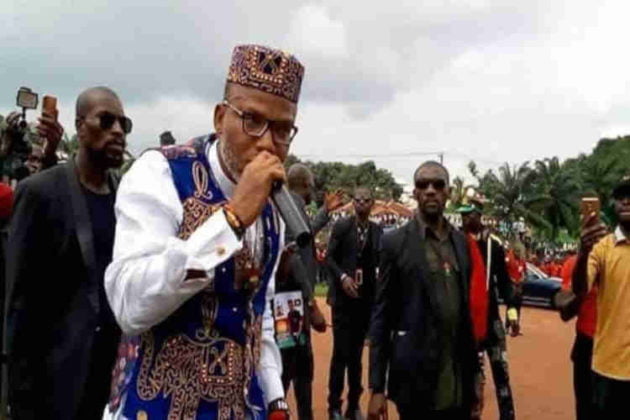 The leader of the Indigenous People of Biafra (IPOB), Nnamdi Kanu, has vowed to end the agitation for the Republic of Biafra should President Muhammadu Buhari "submit himself to a DNA test" to confirm the person in Aso Rock is the "real Buhari".
Naija News reports that Kanu made this vow during a live broadcast on Radio Biafra over the weekend.
This online news platform recalls that Kanu resurfaced in Jerusalem, Israel, October 19 2018, after the military invasion of his community in Abia State, southeast Nigeria, in 2017.
Two days after Kanu resurfaced, the self-exiled IPOB leader made a live broadcast on Radio Biafra, where he said he has returned fully and is "coming back with hell."
"I have returned full-time and I am coming home and I will bring hell with me," Kanu said in his first public statement on a live broadcast monitored on the 'Radio Biafra' Facebook page, October 21, 2018.
After Kanu's first public statement, he continued to address "Biafrans" through a live broadcast every Saturday, during which he addressed various issues including an allegation that President Buhari is an impostor whose real name is Jubril Aminu Al-Sudanni from Sudan.
In various broadcasts of the IPOB leader monitored by this reporter, Kanu maintained that the person in Aso Rock, Nigeria's Presidential Villa is not President Buhari, an allegation which the President debunked last year while speaking in Poland where he attended a climate change summit.
 "A lot of people hoped that I died during my ill health. Somebody just thought I am cloned, it is real me I can assure you," the President told some Nigerians living in the European nation last year.
His words:
"Abba Kyari and his cohorts who brought in Jubril to replace Buhari failed to reckon with the fact that no two individuals, even so-called identical twins, are exactly the same in every way.
"It will be very foolish of PDP not to challenge this brazen insult against Atiku by insisting on a DNA test for Jubril. Should Jubril submit himself to a DNA test and confirms he is Buhari, I will drop the agitation for Biafra. That is how certain I am," Kanu who is now based in the United Kingdom vowed.
Kanu is leading a group seeking secession from Nigeria. The group has since been proscribed by the Nigerian government.
Download NAIJA NEWS app: