Air Crash In Ethiopia: All 157 People On Board Killed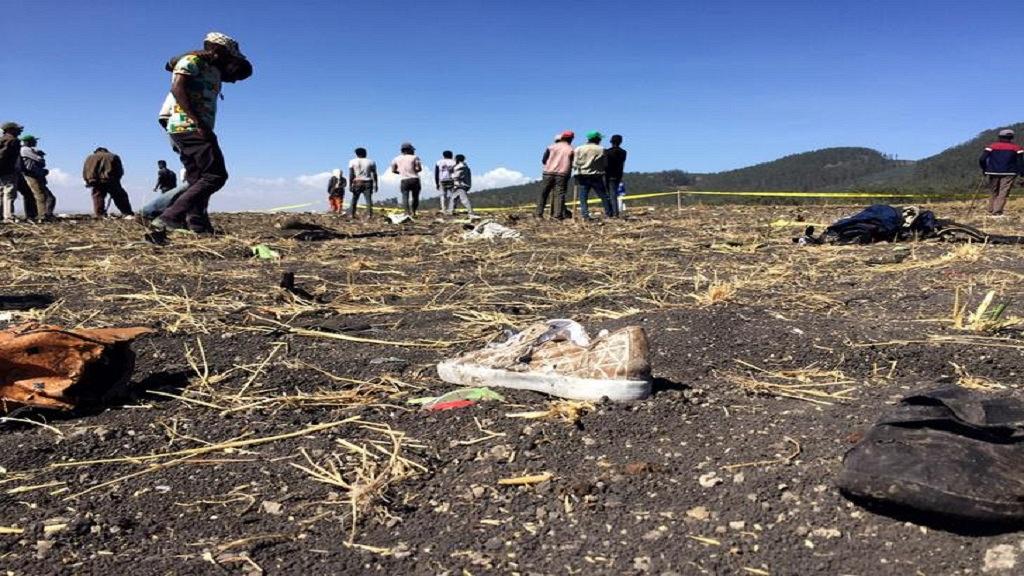 An Ethiopian Airlines Boeing 737 on the Addis Ababa-Nairobi route crashed Sunday morning shortly after take-off and the 157 people aboard were killed in the crash.
Flight ET302 crashed a few minutes after take-off, "killing all 149 passengers and 8 crew members," state-run Fana Broadcasting Corporate said, citing the airline.
Earlier in the morning, the company announced the tragedy in a statement: "We confirm that our flight ET 302 from Addis Ababa to Nairobi was involved in an accident today," she said.
The plane took off at 08:38 (05H38 GMT ) from Addis Ababa Bole International Airport and "lost contact" six minutes later, the source said. He was scheduled to land in Nairobi around 10:30 am (0730 GMT ). The weather was good Sunday morning in Addis Ababa.
The plane crashed in the Bishoftu region in the Oromia region, sixty kilometres south of Addis Ababa.
Ethiopian Airlines said it would send personnel to the scene of the accident to "do everything possible to help the emergency services".
Ethiopian Prime Minister Abiy Ahmed said in a tweet "to express deep condolences to the families of those who lost their beloved loved ones on the scheduled flight of an Ethiopian Airlines Boeing 737 to Nairobi, Kenya, this morning".
The Office of the PM, on behalf of the Government and people of Ethiopia, would like to express it's deepest condolences to the families of those that have lost their loved ones on Ethiopian Airlines Boeing 737 on regular scheduled flight to Nairobi, Kenya this morning.

— Office of the Prime Minister – Ethiopia (@PMEthiopia) March 10, 2019
"We are saddened by the news that an Ethiopian Airlines airliner crashed six minutes after takeoff to Nairobi. My prayers go to all the families and relatives of those on board," Kenyan President Uhuru Kenyatta said.
We are saddened by the news of an Ethiopian Airlines passenger aircraft that is reported to have crashed 6 minutes after takeoff en route to Kenya. My prayers go to all the families and associates of those on board.

— Uhuru Kenyatta (@UKenyatta) March 10, 2019
Chair of the African Union Commission Moussa Faki also sent a message of condolence.
Company in full expansion
Ethiopian Airlines said it was setting up a passenger information center and a phone number for relatives of people who may have been on the plane. On his Twitter account, the bright colors of the company have been replaced by black and white.
At the Nairobi International Airport ( JKIA ), relatives of passengers in the morning told AFP of their slim hopes of seeing their parents.
"I still hope everything is fine," Peter Kimani, who has come to pick up his sister Florence Wangari, a nurse who "travels a lot," has just managed to say. "We can only pray that she did not take a seat on the plane".
Khalid Ali Abdulrahman was very fortunate. When he came to pick up his son at the airport, he learned on the spot that his plane crashed. "I was in shock but shortly after, my son called me to tell me he was still in Addis and he did not board this flight," he said.
Ethiopian Airlines, which is 100% owned by the Ethiopian State, has experienced a very strong expansion in recent years. Its fleet has more than 100 aircraft, making it the largest on the African continent.
In 2018, a study by forwarding firm ForwardKeys indicated that Addis Ababa had overtaken Dubai as the first transit airport for passengers arriving in sub-Saharan Africa. The Addis Ababa airport has recently been renovated.
The crashed Boeing 737-800 MAX was a recent aircraft delivered in 2018 to the company.
The latest serious accident of an Ethiopian Airlines airliner is that of a Boeing 737-800 that exploded after taking off from Lebanon in 2010. The 83 passengers and seven crew members were killed.
Read More News. Download Naija News App. Send us enquiries and press releases.