Biafra: What Nnamdi Kanu Discussed With EU Parliamentarians (Video)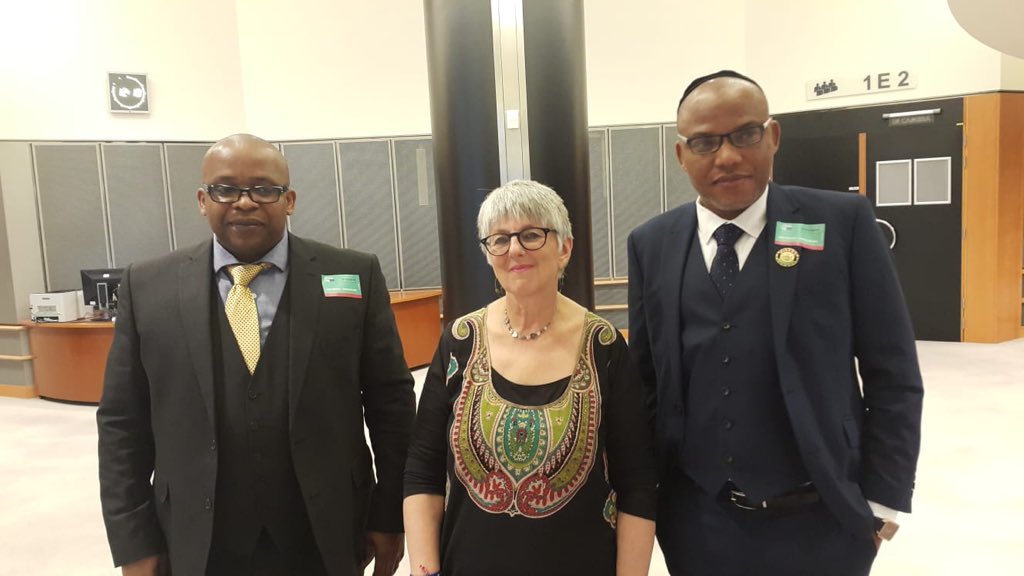 The leader of the Indigenous People of Biafra (IPOB), Nnamdi Kanu, says he met with European Parliamentarians in order to help him restore the Biafra Republic.
Naija News understands that the IPOB leader and his deputy, Uche Mefor, met with members of the European Parliament in Brussels, Belgium on Thursday, March 7.
The development was disclosed by the IPOB leader in a tweet on Thursday evening, March 7.
"Today, the Deputy Leader of #IPOB Mazi Uche Mefor and I meet with European MEPs at the European Parliament in Brussels Belgium, thanks to @julie4nw Self-determination is a universal principle and we are determined to free the people of #Biafra from colonial Nigeria," Kanu wrote on the micro-blogging site.
Giving an insight into why he met the EU MEPs, Kanu said: "There are many things happening which I am not at liberty to disclose at this very stage. We are doing everything to restore Biafra but secretly and out here in the open.
"One thing is certain, our resolve to restore Biafra can never never be underestimated. People must be very resolute as we are to ensure that Biafra is restored.
"Here today we have met and we are still going to meet very important personalities to help us facilitate the exit of Biafra from the damnable zoological Republic," Kanu said.
Watch the video below…
Join me tonight, March 7, 2019, for a live program from Brussels Belgium.

Time:
7 pm European Standard Time 7 pm Biafraland Time
6 pm London Time

Link:https://t.co/BGkddRLuGm pic.twitter.com/vYz4OfyCYM

— Mazi Nnamdi Kanu (@MaziNnamdiKanu) March 7, 2019
Meanwhile, Naija News reports that Kanu is leading a group seeking secession from Nigeria. The group has since been proscribed by the Nigerian government.