Sambo Dasuki Alive, In DSS Custody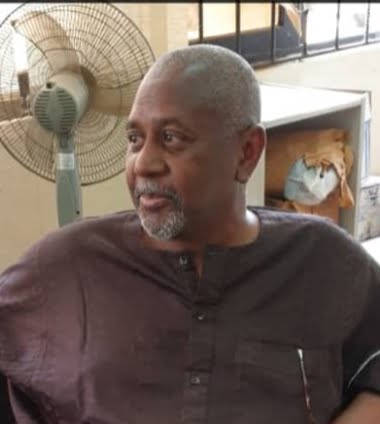 Former National Security Adviser Sambo Dasuki is alive and safe in the custody of the Department of Security Services (DSS).
There were rumours on social media that Dasuki is dead but a Nigerian writer and political commentator Yushau Shuaib has said the former NSA chief is hale and hearty.
Shuaib said: "Alarmed by some audios being spread on the social media on the rumoured death of the spymaster on the election day, I quickly called his family members including his wife and sibling for enquiry.
"They expressed similar shock and that they had even received condolence messages from people on the same speculation.
"One of the family members also told me of their visit to Sambo Dasuki the previous night at the Department of Security Services (DSS) where he is being detained.
"I put a call to the spokesperson of DSS, Mr. Peter Afunanya who told me that the ex-NSA is alive. I was later granted approval to visit the ex-NSA that morning for confirmation."
He added that a DSS official told him that "There is no iota of truth or credibility about the rumoured death of Col. Sambo Dasuki.
"We make bold to state that the former NSA is very much in good health and not dead. Therefore, it behooves the general public to disbelief and condemns the atrocious online story that Dasuki has died in DSS' custody."
According to him, "He later led us (this writer and NTA Crew) to meet the former National Security Adviser in a modest room, that looks like an office.
"With a cup of tea before him, Dasuki looked relaxed and unperturbed as he welcomed us. He cracked jokes on his rumoured death.
"When he noticed a Camera from NTA crew, he quickly warned against video recording of the encounter.
"He also said he would not grant an interview to the Television station, even though he cheerfully exchanged pleasantries and threw banters.
"We chatted for a while as he expressed himself freely and courageously on how he felt about being unjustly detained after sacrifices to his fatherland.
"Before we left, I suggested he should allow his photograph to be taken while he was sitting. He reluctantly agreed."
Furthermore, he said: "Since I have an agreement with DSS Spokesperson not to report our discussion, I can only confirm that Sambo Dasuki is alive, hale and hearty when we met him on that Saturday, February 23, 2019."
Naija News recalls that Dasuki has been in the custody for more than three years despite being granted bails by more than five high courts while the ECOWAS Court of Justice also ordered the Federal Government of Nigeria to release him immediately from illegal detention.