NSCDC Arrests Man For Impregnating And Attempting To Murder Niece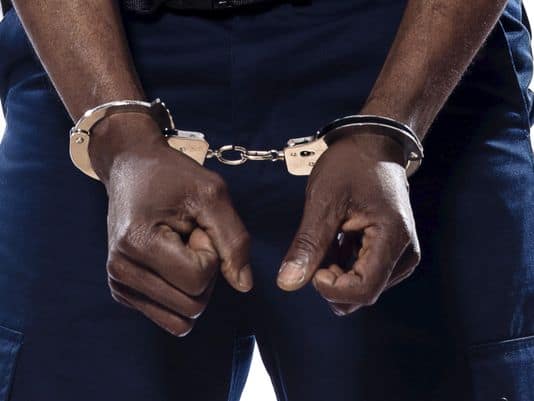 A man identified as Dennis Agya Kiyeye has been arrested by the Nigeria Security and Civil Defence Corps in Ekiti State.
The 52-year-old man was apprehended by the security operatives following the alleged conspiracy and murder attempt on his niece.
The commandant of NSCDC in the state, Solomon T Iyamu stated that Kiyeye had carnal knowledge of the girl thereby impregnating her at Ilupeju village in Gbonyin Local Government area of Ekiti State.
According to NSCDC, the suspect confessed that his niece has been staying with him since 2013 after the demise of her mother in Benue state.
"Kiyeye said he had been having carnal knowledge of the girl since three years ago and the act has become normal of two of them"
"The incest resulted into pregnancy in 2016 but was kept the secret with the help of a quack midwife who assisted them to terminate the pregnancy."
"Dennis claimed that the pregnancy was jointly owned by him and one Kunle who happened to be the girl's school mate in the village."
"Dennis explained that the girl later became pregnant for him again, and due to the shame he had caused himself, he conspired to terminate her life in a nearby bush around the village,".
The poor girl was rescued by a good Samaritan who reported the dastardly act to the village Head of the community.
The village head, Chief Adebisi Olaoye while speaking on the incident stated that the suspect is a man of questionable character.
"After the sinful act became open to the people of the village, his movement became suspicious,".
Olaoye further stated that people in the village have been watching the suspect to determine the veracity of the information they had heard.
He claimed that the suspect was caught by the people while attempting to murder the girl in the village.
Adebisi Olaoye promised to support the NSCDC on investigations to unravel the mystery.
The victim who revealed her inabilities to reject the sexual advances of her uncle who she claimed deflowered her, said the uncle is responsible for her feedings and upkeep, and that any refusal may land her into hunger and suffering.
She cried to non-governmental organizations, people of Ekiti state and well-meaning Nigerians to come to her rescue as medical examination showed that she has a fibroid tumour that is growing along with the baby, which may hinder the development of the foetus.
Iyamu stated that the suspect will be charged to the court to face the law and be an example to other wicked relatives who are into such an act of defiling their family members
He called on parents in the state to take care of their girl child against shameless and wicked relatives pretending to be family members.