Nigerians Unable To Collect PVCs Lament As Extension By INEC Ends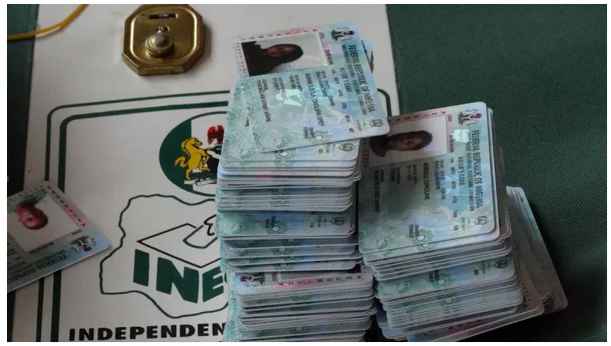 Nigerians Lament Inability To Collect PVC
While preparations by the Independent National Electoral Commission, is on top gear for Saturday elections, Naija News understands that many registered voters across the country are yet to collect their Permanent Voters Card (PVC).
Recall that INEC which had fixed Friday, February 8 as last day for the collection of PVCs extended the issuance till 6pm yesterday.
INEC chairman, Prof. Mahmood Yakubu, had in January disclosed that the final register for the 2019 general elections stands at 84,004,084 voters.
INEC carried out Continuous Voter Registration (CVR) between April 27, 2017 and August 31, 2018 during which a total of 14, 281,734 new voters were registered.
Thereafter, the commission printed the PVCs of the new registrants and delivered them to the states.
They were thereafter dispatched to the 8,809 Registration Areas/Wards from January 16 to January 21 for collection throughout the week including Saturday and Sunday.
After January 21 collection of PVCs was reverted to the commission's local government offices and other designated centres.
Reports from states
In Bauchi, Daily Trust reports that many people have not collected their PVCs and were unsure of doing so before the closing time.
A woman, Hafsah Haruna, who registered at Yakubu Wanka, but was unable to get her PVC, express her disappointment.
When Naija News also visited the collection center in Ilorin South, located at Pake, it found out that some PVCs were not printed.
"They said our PVCs have not been printed and this is not the first time we would be here. It simply means we won't be able to vote",  said Kayode who spoke with our correspondent and had gone there with his wife to get their PVCs.
In Benue State, Naija News learnt that people continued to troop in their numbers as early as 8:00am to obtain their PVC, especially in the premises of North Central Entrepreneurial Development Centre.
A respondent, Henry Iorykase, who eventually collected his PVC after waiting for hours, decried the slow process on the part of the INEC officials distributing the card just as he doubted that they would be able to give out up to 100 PVCs before the end of the day.
When contacted, the INEC's Public Relations Officer (PRO) for the state, Terka Andya, said though many PVCs were yet to be collected, he could not ascertain how much had been distributed or remaining in the commission's custody until the exercise was concluded.
Our correspondent recalled that before the present exercise, the number of uncollected PVCs in the state stood at 420,038 while total number of registered voters in Benue was 2, 508, 768 according to the state's REC, Nentawe Yilwatda.
Some residents in Lagos were seen in last-minute rush for the collection of their PVCs in selected centres.
At the INEC office in Agege Local Government office in Abekoko area of the state, individuals, men and women lamented that they had tried to collect their PVCs previously but to no avail.
One Jide Babalola, a Civil Servant said, "I was here two times last week. I was delighted when the electoral body said it has extended it till today. I'm glad that the few people that came ahead of me are already being attended to,"
Similarly, at the section of the Ikeja Local Government Secretariat that also served as collection centre, about 50 prospective voters were seen on the queue.
At the Katsina Local Government INEC office, many people were seen hanging by the windows waiting for their cards to be sorted out.
Malam Abdullahi, who was there for the second time yesterday, said he and his wife registered in 2014 but were yet to retrieve the cards, saying he would remain there until the closing hours.
The INEC office in Uyo where people were billed to collect their PVCs had few prospective voters when Daily Trust visited.
The REC in the state, Mike Igini, said a total of 2,119,727 voters registered, adding that so far, a total of 1,922,127 PVCs had been collected.
There was also low turnout of people at INEC area office in Onopa, Yenagoa Local Government of Bayelsa State.
It was learnt that the residents of the area seized the opportunity of the last few days' extension to collect the available ones, especially on Saturday and Sunday.
Mr Daniel Tari told news men that he registered last September but as at the time he checked to collect his PVC, he was told that it was not ready.
He said: "It is painful not to have collected my PVC, which means I may not be able to vote for my preferred candidates during Saturday election."
An INEC staff at the distribution centre disclosed that they have been working since Friday without rest and that several people who registered have been given their cards.
Despite the extension, very few Kebbi residents turned up to collect their PVCs.
In the state's INEC office at Aliero quarters in Birnin Kebbi, there was no serious activity.
A staff who spoke to our correspondent said: "We didn't get people rushing to collect their PVCs today being the last day for collection."
INEC officials in Kwara State worked over the weekend to ensure that the over 200,000 PVC left were collected before the deadline.
A civil servant in the state, Mr Usman Alade, said he rushed out of office to get his PVC because he wanted change and could only contribute to that by casting his vote during the election.
The figure of the PVC uncollected as at last week Friday according to the Head of Department, Voter Education, Publicity, Gender and Civil Society liaison in the commission, Mr Jacob Ayanda was 277, 134.
Malam Sani Sule, who was at INEC office in Dutse, said he got it within few minutes, while Maryam Bala said she was not aware that the time for the collection of PVCs was extended, adding that by the time she heard of it, the offices had closed.
Contacted, the Head of ICT at the INEC office in Dutse, Alawa Aliyu, said as at 6pm, a total of 1,627,561 PVCs had been collected while 90, 603 were yet to be collected.
There were mixed feelings among various registered voters in Gombe state.
In Kano, some voters said they could not get their cards even though they rushed to various centres on time.
One of them, Malam Ibrahim Sabo, said he could not get his PVC despite several visit to the commission.
"I am not happy at all because I am denied my civic right as Nigerian," he said.
The Public Relations Officer of the commission, Alhaji Garba Lawan, said voters trooped to the commission as early as 6am yesterday and many had received theirs.
INEC's Resident Electoral Commissioner in Ebonyi State, Prof. Godswill Obioma, said they have 194,714 uncollected PVCs. In Imo, hundreds of eligible voters besieged various INEC offices at local government areas.
In all, this report shows despite best efforts by INEC, many Nigerians were still unable to obtain their PVCs before the deadline and would therefore miss out in exercising their civic rights as the 2019 general elections take center stage as from 16th February with the presidential and national assembly elections.